Congratulations to the finalists announced in the Greater Manchester Clinical Research Awards 2018. This year's awards received 230 nominations in total – the highest number of nominations since its launch in 2013.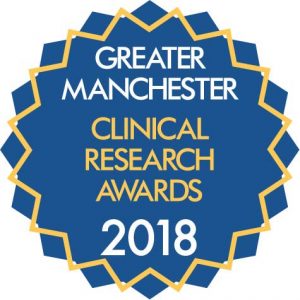 An impressive 11 individuals and teams have been shortlisted from across Manchester University NHS Foundation Trust (MFT) and winners will be revealed next month at an awards ceremony in Manchester city centre on Thursday 22 November 2018.
We would like to wish all our teams and researchers the very best of luck as the standard of nominations this year was extremely high.
The shortlist of MFT Researchers is:
Lifetime Achievement:
Dr Simon Jones, Consultant in Paediatric Inherited Metabolic Disease based at the NIHR Manchester Clinical Research Facility at Royal Manchester Children's Hospital
Professor Charles Hay, Consultant Haematologist / Honorary Senior Lecturer in Medicine based at Manchester Royal Infirmary
Research Nurse of the Year:
Houda Chea, Clinical Research Nurse, Renal Research based at Manchester Royal Infirmary
Research Midwife of the Year:
Catherine Chmiel, Research Midwife Coordinator based at Saint Mary's Hospital
Clinical Studies/Research Practitioner of the Year:
Christine Hughes, Research Practitioner based at Saint Mary's Hospital
Research Administrator/Co-ordinator of the Year:
Natalie Hill, Study Co-ordinator based at Royal Manchester Children's Hospital and Wythenshawe Hospital
Best Debut:
Marcus Fogarty, Research and Development Intern based at Wythenshawe Hospital
Outstanding Contribution:
Katrina Moore, Senior Research Practitioner based at Wythenshawe Hospital
Investigator of the Year:
Dr Gabriel Schembri, Consultant in Sexual Health and HIV medicine/Research Lead based at The Hathersage Centre
Research Team of the Year:
Collaborative Research Team based at Manchester Royal Infirmary
Public Engagement:
Non-Malignant Haematology Team based at Manchester Royal Infirmary
Debbie Vinsun, Chief Operating Officer for NIHR Clinical Research Network Greater Manchester, said:
"I would like to thank everyone across our network and partner organisations who took the time to complete a nomination form. We have been blown away by the level of engagement with the awards, which ensured the judges faced an extremely tricky task when whittling down 230 nominees to just over 40 finalists.

"The achievements that were outlined in the forms are another reminder of the continued hard work and dedication being shown by the talented research staff around our region – and everyone who was nominated deserves great credit. Ultimately, the judges have shortlisted the nominees who they feel have most demonstrably surpassed all expectations and truly shone.

"I would like to congratulate each of our finalists and we look forward to welcoming them, along with all our guests, to the ceremony next month."