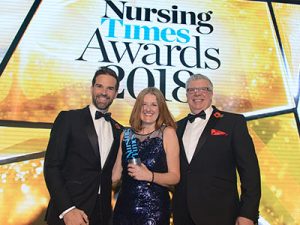 Congratulations to all the amazing teams at Wythenshawe Hospital, big winners in the Respiratory Nursing and Continence Promotion and Care categories at Wednesday night's Nursing Times Awards.
In a ceremony held at the prestigious Grosvenor House Hotel in London, our nurses were honoured in a night of recognition dedicated to celebrating exceptional achievement.
Wythenshawe's Interstitial Lung Disease (ILD) team received the Respiratory Nursing award. They established a collaborative network of nurses and AHPs with an interest in ILD to provide care closer to home for patients with Idiopathic pulmonary fibrosis on antifibrotic treatment. This helped cut difficult journey times for patients with severe debilitating lung disease requiring oxygen therapy.
ILD Specialist Nurse Helen Morris who represented MFT at the ceremony said: "The award recognises the hard work and dedication of not only the Wythenshawe Hospital ILD team, but the wider network. The team is looking forward to developing the network and satellite clinic provision further."
Domini Mullins, Advanced Surgical Care Practitioner at Wythenshawe Hospital, collected the Continence Promotion and Care award, in recognition of her innovative nurse-led bladder and bowel service.
The aim in developing the service was to give patients a dedicated sacral nerve neuromodulation service nurse to oversee all their care, from clinic to implanting the sacral nerve neuromodulation device, post-operative programming and long-term followup.
Editor of Nursing Times, Steve Ford, said: "Congratulations to all our deserving Nursing Times Awards winners for 2018. The evening always fills me with a really positive feeling, despite the challenges that may be facing the wider health sector.
"As ever, our awards entrants set a very high bar and demonstrated what great care and innovation can be achieved by nurses, often with few resources other than a really good idea and the determination to see it through."