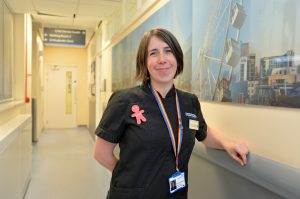 Claire Stevens Consultant in Paediatric Dentistry at the University Dental Hospital of Manchester is to be awarded a CBE, Commander of the British Empire, in the Queen's New Year's Honours List in recognition of her commitment to improving children's oral health nationally.
She is to be awarded the highest of the three orders of the British Empire, for her role in shaping and influencing paediatric dentistry and improving oral health in children.
Claire has worked at a national level as a spokesperson and previous president for the British Society of Paediatric Dentistry (BSPD). More locally, Claire chairs the Greater Manchester Paediatric Dentistry Managed Clinical Network – a group which is working to improve children's oral health and Paediatric Dental Services across Greater Manchester.
She is based at the University Dental Hospital of Manchester (UDHM), where she takes a lead role in ensuring the whole child is assessed, not just the teeth, signposting families onto other services.  She has been instrumental in connecting UDHM with a programme designed to reduce obesity in Greater Manchester's children.  As a result, many of those working with children in the city and beyond are sharing important key messages in relation to diet and oral hygiene. At UDHM she previously initiated an intravenous sedation service in the paediatric dentistry department which allows some adolescent patients to avoid requiring a general anaesthetic for their dental treatment.
Claire commented: "This award feels momentous because it has been made for services to children's oral health.  At last we are recognising the importance of supporting every child to grow up free of dental disease.
"I am privileged to work alongside many people who continue to dedicate their lives to improving children's health. My advocacy has only worked thanks to all those who collaborate and work with me, in Greater Manchester, in BSPD and within the profession."
John Ashcroft, CEO of the University Dental Hospital of Manchester said: "We are immensely proud of Claire's very well deserved recognition in this year's Honours List. The sheer impact this work has had on the health of children across the country is a testament to Claire's dedication to an often overlooked speciality."