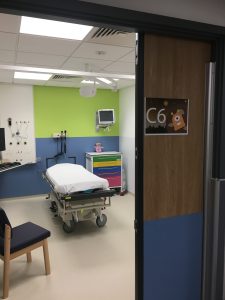 Phase 2b of the new Emergency Department (ED) expansion at Wythenshawe Hospital opened to patients on Wednesday 30th January. This part of the project focusses specifically on a new paediatric area in the department and consists of:
New purpose-built area for paediatric patients incorporating one triage cubicle and eight majors/minors cubicles
Audio and visually separate resuscitation room
Improved treatment area specifically designed for patients aged between 0 and 16 years old who should be treated away from the main ED
Separate waiting area with play area
Paediatrics was previously occupied in the 'minors' area of the development which opened in May 2018. After the children's department has been successfully re-located in their new purpose-built area, the minors patients will be treated in the new 24 hr minors area left vacant, from Friday 1st February. This will consist of:
Central staff base
Plaster room with plaster store
12 examination rooms
Part of a wider £17 million development, the opening of the children's ED will mark the second of three phases in an expansion project which will eventually double the size of the original department.
This project will enhance patient experience, facilities and care, ensuring the Trust can continue to provide high quality emergency care for patients across South Manchester, Trafford and beyond. Previous improvements already operational include 25 new majors cubicles, new reception and waiting areas, improved triage and ambulance bays, three new staff bases and a new resuscitation area.
The third and final phase of the development will see the refurbishment of relatives' facilities and staff rooms and is scheduled to finish later in the year. We will continue to keep you informed on the progress of this important new facility for Wythenshawe Hospital and MFT as a whole.