New checks are an efficient and effective way to identify lung cancers at the early stages, when at their most treatable.
Pilot programme in 2016 quadrupled lung cancer early diagnosis rates.
Will serve North and East Manchester, one of the most at risk regions for lung cancer in the country.
Using the latest ultra-low CT technology in the community.
Part of the NHS long term plan to identify conditions earlier.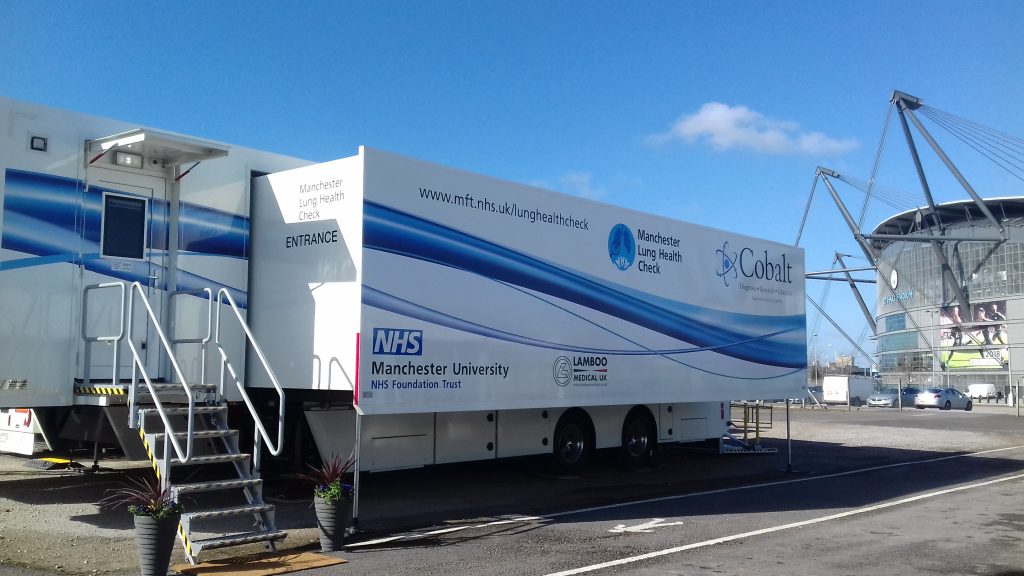 Clinicians at Wythenshawe Hospital, part of Manchester University NHS Foundation Trust, will soon be launching a new initiative to help improve early diagnosis for lung cancer and other respiratory conditions across North and East Manchester.
Manchester's 'Lung Health Checks' will tackle poor early diagnosis and survival rates for lung cancer by providing quick, easily accessible screenings for those deemed at higher risk of lung conditions.
The project will utilise ultra low-dose CT scanners in first-of-their-kind mobile units, delivered in partnership by Wythenshawe Hospital, Manchester Health and Care Commissioning (MHCC), Cobalt and Siemens Healthineers.
From next month (April 2019), Lung Health Check support units and CT vehicles will be placed in key community-based locations across North and East Manchester for the next two years. The first location is at the Etihad Campus, Manchester City Football Club's stadium, where participants will be able to attend on selected dates – outside of match days.
Those eligible for screenings – smokers and former smokers aged between 55 and 80 – will receive a personal invitation for a Lung Health Check from their GP. The resident will arrange a suitable date and time to attend their nearest Lung Health Check site where a nurse will ask them some questions about their lung health and carry out a simple test to measure the amount of air in their lungs.
The specialist will then use the results to determine if the resident will benefit from having an ultra low-dose CT scan. If so, this scan can then be done immediately in the purpose-built mobile unit, and would take only a few minutes. The check will only take around 30 minutes in total.
Dr Richard Booton, Clinical Director of Lung Cancer and Thoracic Surgery at Wythenshawe Hospital, said; "Lung Cancer is the leading cause of premature death in Manchester and a major issue in the treatment of lung cancers is that they are often not identified until a late stage, at which point the chances of survival lower significantly.
"This new initiative allows us to test people who are at a higher risk of lung conditions, regardless of whether they've noticed any symptoms, enabling us to diagnose lung cancer and other respiratory conditions at a much earlier and more treatable stage. Tests are quick and non-invasive, and located in easily accessible areas in the community.
"Thanks to new technology and an innovative approach to screening, we anticipate this new service will revolutionise the way we identify lung cancers, and boost Manchester University NHS Foundation Trust's reputation for pioneering ideas that improve the lives of our residents."
Peter Harrison, Managing Director of Siemens Healthineers GB&I, said; "There are now very effective therapies available that can save more lives if lung cancer is detected early enough, rather than when patients become symptomatic.  This solution utilises a CT scanner that uses a very low dose of ionising radiation, enabling screening to detect cancers at a far earlier stage of progression."
Peter Sharpe CEO Cobalt Health, said; "Cobalt are very excited to be part of the first commissioned Lung screening service in the UK. As a medical charity, we have been supporting oncology services with the NHS for over 50 years using the latest technologies. The partnership with MFT and Siemens will enable us to deliver the very best service to the people of Manchester using the latest Siemens equipment."
Denis Colligan, GP, Board Member and Cancer Lead, Manchester Health and Care Commissioning said: "As a local North Manchester GP I know first-hand of the benefit the 2016 Lung Health Check pilot made to my patients.  We are very pleased to be in a position to offer north Manchester patients this simple check-up,  that can detect lung cancer and other conditions earlier, and is clinically proven to have an immediate impact on saving lives."
Councillor Bev Craig, Executive Member for Adult Health and Wellbeing for Manchester City Council, said: "This is a great initiative which will save lives. By making tests quickly and easily available to people while they go about their daily lives there's real scope to catch this terrible illness early and while it's more treatable. This is exactly the sort of imaginative thinking to help people look after themselves which we want to see, and shows once again how Manchester is leading the way."
This new service follows the success of the community-based pilot in 2016 – a partnership between Wythenshawe Hospital, Macmillan Cancer Improvement Partnership and the Manchester Clinical Commissioning Groups. During this pilot, 65 lung cancers were detected, equating to one lung cancer for every 23 CT scans performed. Of these, eight out of 10 cancers were detected at early stage, allowing curative treatment in 90%.
The four Lung Health Check sites will be at Etihad Stadium, Cheetham Hill, Harpurhey and Failsworth.