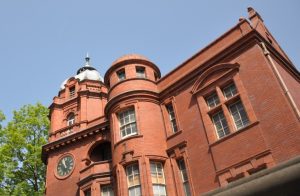 RUNNING in its 17th year, the annual Sexual Assault Referral Centre (SARC) two day conference will be held this week at the Midland Hotel in Manchester (April 30th to May 1st) with a key theme of accessibility; 'making sure rape and sexual assault services are accessible to all'.
Hosted by Saint Mary's SARC, part of Manchester University NHS Foundation Trust, the event will provide valuable insight and discussion for those working in the field of rape and sexual violence.
The conference will demonstrate the leading national and international role Saint Mary's plays in promoting excellence across its services. A range of speakers will address delegates, including; Saint Mary's SARC Clinical Director Dr Catherine White and Deputy Mayor of Greater Manchester Bev Hughes.
Dr Catherine White, Clinical Director of Saint Mary's SARC said: "We need to put the complex needs of victims and their families at the centre of what we do and ensure that all victims of rape and sexual violence have access to the right services to recover from the physical and emotional effects of an assault.
"This conference will provide a valuable opportunity to highlight and share good practice in addressing the wider issues of accessibility. I am sure it will give delegates a practical insight into how we can improve services to people who have experienced rape and assault both in the UK and abroad."
The two day conference will host a number of practical workshops, offering a range of opportunities to develop skills and share good practice, with a focus on sexual violence in prisons, elderly victims, the homeless and much more.
Deputy Mayor for Greater Manchester Bev Hughes said: "I am pleased to be part of this event again which brings professionals and service providers together to share best practice and improve victims' services.
"In Greater Manchester, devolution puts us in a unique positon to be able to do things differently, transforming how we deliver public services. Central to this is ensuring that the most vulnerable members of our communities have access to the right support in the right place. I'm looking forward to sharing Greater Manchester's journey with delegates and learning from others on what we can do better to support victims and survivors of sexual violence."
Other key note speakers include:
Lorraine Atkinson, The Howard League: Rape in prisons
Professor Emma Cave, Durham University: Mental Capacity & Adolescents
Jo Seward, Lime Culture: Male Standards in SARCs
Dr Hannah Bows, Durham University: Sexual Abuse of the Elderly
Professor Ian Wall, Serenity SARC: Alcohol & drug withdrawal clients
Anne Coffey MP: Should Rape Trials have Juries?
Lejla Damon, Warchild, Remembering Srebrenica: Rape as a weapon of war
Dr Sam Warner, consultant clinical psychologist: Breaking the vulnerability – victimisation cycle for repeat SARC attenders
Dr Michelle Cutland, Practice Improvement Advisor for Health, Centre of Expertise on Child Sexual Abuse: Seeing the whole of the picture