The Anthony Nolan centre at Saint Mary's Hospital, part of Manchester University NHS Foundation Trust, has celebrated its five-year anniversary with a visit from Coronation Street actress, Jennie McAlpine.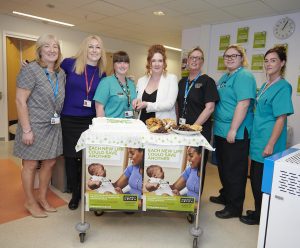 The cord blood collection centre allows new mums in Manchester the opportunity to give life twice in one day, by donating their umbilical cord which could one day help someone in desperate need of a stem cell transplant. It means that pregnant women in the city can help the Anthony Nolan blood cancer charity save lives, simply by donating something that is normally thrown away – with no hassle or risk to mother or baby.
Jennie McAlpine, who plays Fizz in Coronation Street, is no stranger to Anthony Nolan, having twice donated her own umbilical cord at the centre. To mark the occasion Jennie was introduced to expectant mothers who had signed up to donate their umbilical cord blood, shared cake with the nurses and midwives, and met the cord collector that facilitated her donation. The actress was also taken on a 'behind the scenes' tour of the laboratories to see what happens to the lifesaving stem cells received by Anthony Nolan at Saint Mary's.
When reflecting on her choice to donate Jennie said: 'When asked, we were more than happy to donate the cords of both our babies who were born at Saint Mary's. To think our babies at just a few moments old could potentially be lifesavers, was wonderful!'
Currently 69% of patients in the UK who are in need of a lifesaving stem cell transplants will be matched with a stranger who is the best possible match.
Blood from umbilical cords is rich in potentially life-saving stem cells that can be used in a transplant, but all too often is discarded. Anthony Nolan's cord blood programme offers a valuable alternative for patients who can't find a matching stem cell donor. This is because stem cells in cord blood are immature, meaning it doesn't have to be a perfect match.
Anthony Nolan's cord blood programme is particularly important for patients in the UK from black, Asian and minority ethnic backgrounds, who have just a 20% chance of finding the best possible match.
Diane Davies, Clinical Midwife Advisor for Anthony Nolan's cord blood collection programme in Manchester, said: 'Many pregnant women are surprised to find out that it's so simple to donate their cord blood and that it doesn't affect the birth of their baby at all.
'In fact, most women say they hardly even know we're there and that it can make their day even more special in the knowledge that their newborn baby could be giving someone else a chance of life.'