One Consultant Plastic Surgeon and three Specialist Lead Midwives from Manchester University NHS Foundation Trust (MFT) have been shortlisted in two categories for the Greater Manchester Health & Care Champion Awards 2019.
The Greater Manchester Health & Care Champion Awards celebrate and recognise the employed and unwaged workforce right across Greater Manchester, who regularly go above and beyond to improve the health and wellbeing of the people in our communities.
30 individuals and teams, working in the NHS, a school, local authorities, charities, care homes and many other sectors have been shortlisted across 10 different categories. A panel made up of representatives from across public services, plus patient representatives, reviewed all the nominations and agreed the final shortlist. The winners will be announced at a ceremony in July.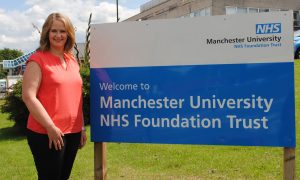 Siobhan O'Ceallaigh, Consultant Plastic Surgeon based at Wythenshawe Hospital, is shortlisted in the 'People's Champion' category. Siobhan was nominated by a patient for her 'skill and dedication' in taking a 'person centred approach' and always showing 'humility, empathy and compassion'       during their treatment and care.
Specialist Lead Midwives Helen Davis, Suzanne Thomas and Kausar Ahmed, based across maternity services at Saint Mary's and Wythenshawe Hospitals, have been shortlisted as part of a collaborative team in the 'Leader Across Boundaries' category. They are part of the Saving Babies Lives Care Bundle (SBLCB) champions, a team of dedicated midwives, one from each of the 9 maternity units in Greater Manchester and Eastern Cheshire and a midwife clinical lead.
The overall team was developed in response to the national ambition set by the Secretary of State for Health to halve the rates of stillbirths, neonatal and maternal deaths and intrapartum brain injuries by 2030, with a 20% reduction by 2020. The Care Bundle consists of four elements of care: reducing smoking in pregnancy; risk assessment and surveillance for fetal growth restriction; raising awareness of reduced fetal movement and effective fetal monitoring during labour.
Their nomination noted that: 'Each and every one of the SBLCB champions are highly motivated and passionate individuals striving to make a difference to the women, children and families they serve, with the full support and autonomy given by their own organisations leaders/Heads of Midwifery.'
The awards are organised by Greater Manchester Health & Social Care Partnership, the body that oversees the area's £6bn devolved health and social care budget, with support from the Mayor of Greater Manchester, Andy Burnham.