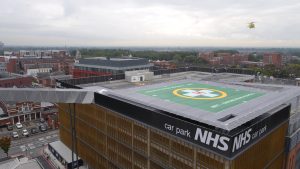 Construction work on the new state-of-the-art, £3.9million helipad at Manchester University NHS Foundation Trust (MFT) has begun and is set to benefit four major hospitals in Manchester city-centre.
The new helicopter landing site, being built on the roof of Grafton Street car park on Oxford Road will enable critically ill or injured babies, children and adults to be airlifted straight to four major MFT hospitals.
A high-level patient transfer corridor will connect the helipad landing site to Manchester Royal Infirmary (MRI), Royal Manchester Children's Hospital (RMCH), Saint Mary's Hospital (SMH) and Manchester Royal Eye Hospital (MREH).
Each of the hospitals on MFT's Oxford Road Campus offer world-leading, specialist services which are not always available at other hospitals within the North West and in some cases, the rest of the UK. The construction of the helipad is expected to see an estimated 312 patients airlifted to the site each year.
Funding for the helipad was raised by MFT Charity's Time Save Lives Appeal, which raised a phenomenal £3.9million in just 12 months, thanks to the dedication and generosity of its supporters.
The Appeal was the focus of the Charity's fundraising, with individuals, businesses and community groups from across the North West all showing their support. This included a generous donation of £1.3million from the County Air Ambulance Trust's HELP (Helicopter Emergency Landing Pads) Appeal and £1.1million from the government's LIBOR fines funds in the Chancellor's Budget.
Building work officially began earlier in June 2019 and the helipad is set to be fully operational by spring 2020.
Manchester University NHS Foundation Trust Chairman, Kathy Cowell, said: "I am delighted that the construction work has begun and that we will be able to offer this service in spring 2020. It is a very exciting time for MFT and the helipad is an amazing project which will help to save so many lives in Greater Manchester, the North West and beyond."
The first 60 minutes following a major trauma injury is known as the 'Golden Hour' and treatment within the first hour can mean the difference between life and death.
Dr Jon Simpson, Medical Director and Consultant Physician at Manchester Royal Infirmary, added: "The quality and speed of specialist medical care following a major trauma injury is vital to ensuring our patients have the best chance of a full recovery. In these situations, patients need to be transferred to a Major Trauma Centre or an Emergency Department, both of which we have on site at the MRI and RMCH.
"The construction of the helipad will be invaluable to us and our patients as in some situations; the quickest or most appropriate way to get a patient to these services is by helicopter. The ease of access to these specialist services once the helipad is fully operational will allow our hospitals to save many more lives and increase the chances of a full or improved level of recovery for our patients."
The 130m-long bridge between Grafton Street car park and MFT hospitals will be suspended 19 metres above street-level with direct access to MFT hospital facilities such as 24 hour Emergency Departments, a Major Trauma Centre for children and a 24 hour a High Dependency Obstetrics Unit.
Construction of the helipad on the roof of the car park has been carefully planned to minimise disruption to MFT staff, patients, visitors and other site users.