A mother and baby who were amongst the first patients to be admitted to the new Saint Mary's Hospital (SMH) Newborn Intensive Care Unit (NICU) on its opening day at Oxford Road Campus in 2009, made an emotional return to the hospital today (July 11th) for the 10th birthday celebrations.
Mum, Gemma Hilton and Daughter Estelle were just one of a number of families, nurses and surgeons invited back to the unit to mark a decade since opening. 10-year-old Daniel Jeeves who was born on the same day that the unit opened, also made his return to the ward to be reunited with the consultant who treated him 10 years ago.
An afternoon tea party was arranged on NICU to mark the celebrations with members of staff that have worked on the ward since opening, who are still part of the team there today.
10-year-old Estelle was originally born at the Old Saint Mary's Hospital on June 23rd, 2009 –three weeks before the new hospital site opened. Due to a number of health complications, she needed additional care and surgery from the moment she was born.
Estelle was a planned caesarean birth, arriving at 38-weeks and weighing 6lb 7oz. She was born with a cyst that had grown under her tongue and was rushed into surgery where she then suffered from a collapsed lung.
Even whilst Estelle was in the womb, surgeons operated on Gemma to extract fluid from the cyst but it grew back. At just three days old, she was fitted with a tracheostomy and spent a number of weeks in NICU undergoing treatment.

Estelle and Gemma were patients at both old and new Saint Mary's hospitals and were transferred over to the new site on the day of opening. Now a bubbly, healthy 10-year-old, Estelle has returned to the hospital with her mum to join the afternoon tea party.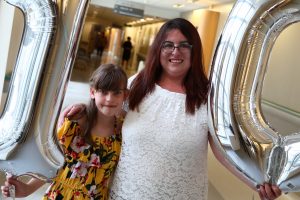 Speaking about the move from the old hospital to the brand new NICU, Gemma said: "It felt like a historic moment in time moving to the new hospital and I was very proud that Estelle was one of the first babies to be transferred to the new intensive care unit.
"The brand new NICU offered better facilities with more rooms for families that wanted to stay with their poorly babies. I feel emotional about returning and can't believe it's already been 10 years. Estelle is doing absolutely amazing you wouldn't believe she went through so much as a baby. I can't thank all of the surgeons, doctors and nurses enough for everything they did for us."
After five days on the new NICU, Estelle was transferred to the Royal Manchester Children's Hospital for further surgery, being one of the first patients to benefit from the integrated hospital complex.
Over the last 10 years there have been more than 81,000 births at Saint Mary's Hospital and more than 180,000 cot days, with an additional 60,000 at Wythenshawe Hospital.
10-year-old Daniel with parents Helen and Robert also benefited from the new NICU a decade ago with Daniel being transferred from Burnley General Hospital for emergency treatment at the new Saint Mary's Hospital – a matter of hours after it had opened.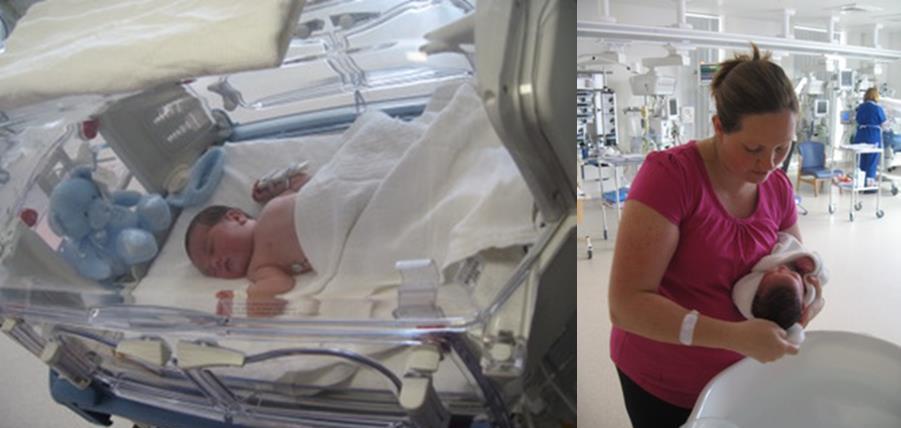 Doctor Anthony Emmerson, who still works on NICU to this day, was Daniel's consultant on his arrival to the hospital. Daniel was the first transfer patient to be admitted on NICU and the team worked quickly to confirm the diagnosis of his condition. Within a few hours of arriving, he went into theatre for an operation that saved his life.
Daniel was born with a number of complications and spent 17 days on the unit. All of the family benefited from the state-of-the-art facilities and the support that the staff on NICU provided.
Daniel's mother Helen said: "Robert and I were very lucky that we were able to stay for the duration of Daniel's treatment. The support that was provided to us was invaluable; from specialist breastfeeding support nurses to learning how to change nappies, running bath time and even giving cuddles – all skills every parent learns how to do in those first few days but proved trickier to navigate with lots of wires and monitoring equipment.
"We are incredibly proud of Daniel and the young man he is becoming. He obviously doesn't remember his time on NICU but we have talked to him about it and he has specifically asked to come along to the tea party so that he can say thank you to all of the staff in person – they do an incredible job and are his heroes!"
The neonatal services at Manchester University NHS Foundation Trust (MFT) are one of the busiest in the country providing more than 32,192 care days to neonates each year, in 88 cots across the Oxford Road site and Wythenshawe Hospital.
Chief Executive of Saint Mary's Hospital Managed Clinical Services (MCS), Karen Connolly said: "I am incredibly proud of every member of staff who works within the Saint Mary's Hospital MCS, who ensures that all our patients receive the best treatment and care that they could wish for.
"We have reached some fantastic milestones in the last decade and have been at the forefront of first-class treatment and care. A number of activities have been planned within the hospital to mark the 10th anniversary, with a number of wards hosting their own celebrations with colleagues."
Over the last 10 years, the hospital has achieved;
More than 81,000 births at Saint Mary's Hospital and since Wythenshawe Hospital joined the Trust in October 2017; there have been an additional 7,200 births.
More than 180,000 cot days at Saint Mary's Hospital and 60,000 at Wythenshawe Hospital. This includes 62,000 cot days in a high-dependency cot.
More than 100,000 attendances at the Emergency Gynaecology Unit.
The neonatal unit became the first in the country to set up nurse led retinopathy of prematurity screening service.
NICU is the first neonatal unit in the country to provide 24/7 on site Consultant presence.
SMH Charity supporters have funded a number of projects for the hospital including;
A much-needed counselling service for women who have experienced major complications or trauma in pregnancy or child birth.
A bespoke neonatal transport ambulance for the Greater Manchester Neonatal Transport Service.
A number of High Frequency Ventilator Oscillators (HFOV) offering specialist respiratory support to very sick pre term and term babies.
Saint Mary's Hospital Charity's board chairman Maurice Watkins CBE said: "The last 10 years have seen some amazing achievements both for the hospital and for the fundraising team. Our supporters are very passionate about Saint Mary's and have come up with some very creative ways of fundraising for the hospital's charity.
"We look forward to the next 10 years with just as much enthusiasm as the first decade."