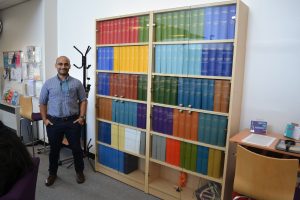 The human genome, the complete set of genetic data that makes up a human being, has now been printed in its entirety by the Manchester Centre for Genomic Medicine (MCGM).
You'll need to clear your calendar if you want to read it all though because estimates say that would take around 100 years.
With around 3.2 billion nucleotides or 'letters', the complete sequence covers 122,976 pages across 130 volumes.
Together this information provides the building instructions for human life. Each individual letter relates to important genetic information, such as eye colour, height and – importantly for MCGM – susceptibility to diseases and medicines.
This is now one of only three printed copies of the human genome in the UK.
Dr George Burghel, Principal Clinical Scientist at MCGM said: "It's very exciting to see this collection in full. The team now has an amazing resource to help us get patients, professionals and members of the public engaged with genomics and the work we do here at MCGM.  Now that we have a physical, interactive version of the human genome we can demonstrate just how much information there is in a human's genetic code, and just how much data genetic scientists need to work with!"
MCGM is an integrated and multidisciplinary facility which brings together NHS patient services and genomic researchers. It is one of the UK's largest genetics centres with in excess of 250 staff, enabling MFT to offer a wide range of routine and specialist genomic services and to use knowledge from research discoveries to improve clinical care.
The printing project was funded by Health Education in their support of the 100,000 Genomes Project and the NIHR Manchester Biomedical Research Centre.