Over the last decade, treatment of varicoceles at the Royal Manchester Children's Hospital (RMCH) has progressed significantly and it is now one of the leading centres in the UK for paediatric varicocele treatment.
A varicocele is the swelling of one or several of the veins that drains blood from the testicle, which affects approximately one in eight men. Symptoms are usually first noticed around puberty and without treatment, a varicocele can sometimes cause pain and swelling or affect fertility.
Treatment for paediatric and adolescent varicoceles was first introduced in Manchester in 2009 by Max Cervellione, Consultant Paediatric Urologist with the support of David Keene who joined the team as a consultant in 2017. Both Max and David continue to provide the varicocele treatment at RMCH to this day.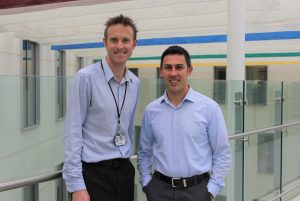 This month marks 10 years since the service was first introduced, which now has the leading success rates following surgery, improving from 50% to 98% in recent years.
Consultant Paediatric Urologist David Keene, said: "When we first started the varicocele service in 2009, there were only 20 patients treated in the first year, using a variety of approaches. We gradually increased the sophistication of the surgery and in 2012 we successfully introduced the use of the Tauber antegrade sclerotherapy in the UK.
"This method is very effective and is a minimally invasive treatment. Since then, we have refined our techniques and have successfully carried out surgery using this method on more than 120 patients."
A mother, whose sons were both treated at RMCH for varicoceles, has thanked the duo for their care and compassion when treating her two boys.
She said: "Luckily my boys are happy to be open with me about health issues and we were able to get the investigations done in a timely manner. It can be a very distressing time for children but the team were fantastic and handled any concerns with the upmost understanding, care and reassurance.
"All aspects of the pre-op and surgical process went really well and we felt that we were valued and advised clearly and compassionately on what was going to happen at all stages."
Over the last 10 years, more than 300 patients have been treated through the varicocele clinic which helps families and patients to get the most up to date information on the condition, enhancing patient experience, treatment and care.
Max and David, who both lead on the varicocele services at RMCH have also published five papers on the management of varicoceles in teenagers in the Journal of Paediatric Urology and developed a consensus statement in 2018 at the British Association of Paediatric Urologists in Cambridge.