Trafford Macular Treatment Centre officially opened its doors yesterday (Monday 4th November) and welcomed its first patients to the newly refurbished centre based at Trafford General Hospital, part of Manchester University NHS Foundation Trust (MFT).
The purpose built specialist centre replaces the mobile macular unit which was on site since October 2015, providing a local service for macular patients who require regular follow-up and treatment for age-related macular degeneration (AMD), sometimes up to every four to six weeks.
The clinic in Trafford joins the family of sight-saving services provided by Manchester Royal Eye Hospital (MREH) and will allow patients to continue to benefit from appropriate care, timely appointments, and more efficient patient journeys during their clinic appointment – which takes approximately one hour, closer to home.
Age-related macular degeneration (AMD) is a common condition that affects the central part of a person's vision and usually first affects people in their 50s and 60s. As the disease worsens it can cause great difficulty with everyday activities such as reading, recognising faces and in some cases, severe vision loss and blind registration.
One of the first patients to the newly refurbished sight-saving centre earlier this week was 80-year-old Valerie Wrigley from Eccles. Valerie has been using the service in Trafford since January 2016.
She said: "I've been having treatment for more than four years, initially treated at Manchester Royal Eye Hospital in central Manchester. I've been a patient at Trafford since 2016, and I find the service much easier to access and much more convenient. I have to come in quite frequently – every six weeks and before moving my appointments to Trafford, it would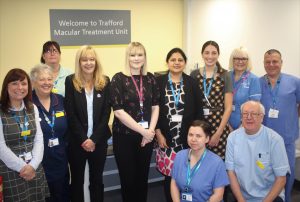 take up my entire day with travel, but here, I am in and out and the staff are lovely."
The refurbishment follows the success of the high-street clinics in North and South Manchester that were first opened 18 months ago in a drive to deliver high quality hospital expertise for patients in the heart of the community.
Following a four-month joint venture with Novartis and MFT, the clinic will officially be opened next week (November 13th) by MFT's Chief Operating Officer, Julia Bridgewater alongside MREH Chief Executive, John Ashcroft. The ophthalmology team based at Trafford, led by Sajjad Mahmood, Consultant Ophthalmologist (Clinical Lead for the Medical Retina Team) and Romi Chhabra, Consultant Ophthalmologist will also join the celebrations.
The demand for macular treatment services has grown hugely over the years and in Greater Manchester, the service now delivers a total of 3,200 treatment appointments per month across the hospital and community sites.
Manchester Royal Eye Hospital Chief Executive, John Ashcroft said: "The ophthalmology team at Trafford provide a fantastic service for our patients and the move into a purpose built facility is a great step to allow them to continue to provide outstanding care, in a more suitable environment.
"The centre offers a one-stop service for the treatment of macular diseases, which is more accessible to our patients. The demand in AMD treatment is increasing and expanding our services has proved invaluable for our patients and our community eye clinics still remain amongst the first in the country to offer this level of treatment, in the heart of the community."
Wet AMD, is the leading cause of irreversible sight loss in the UK. Previously patients would have lost their sight without treatment, which includes regular eye injections to stabilise vision but now, MREH are able to offer this service spread across four sites in Manchester and Trafford.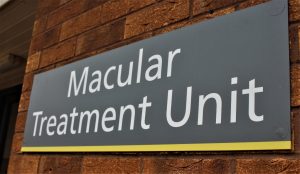 Fiona Bride, Director of Market Access, Novartis Pharmaceuticals UK said: "Novartis is committed to reimagining the treatment and prevention of visual impairment and blindness. We continue to invest in science as well as in strategic alliances to help ensure patients have access to screening, diagnosis, and treatment. As such, we are delighted to partner with Manchester Royal Eye Hospital and MFT to open the Trafford Macular Eye Clinic. This is an important step to ensure patients with wet AMD from across Greater Manchester have access to timely treatment and care".
47-year-old Gary Cocker, who was also one of the first patients to visit the new clinic this week, has been receiving treatment for AMD for the last 18 months. He said: "Having a local service is much better and convenient as my appointments are every seven weeks. The new centre looks great, and the team here are always so friendly, polite and professional."
Benefits of this service to patients include;
Expert high quality NHS care and treatment from Manchester Royal Eye Hospital staff, experienced in treating macular patients
A convenient local community-based service
Patient review and treatment within 60 minutes
Improved patient experience and communication in the clinical setting arising from implementation of a new 'patient passport' to aid patient understanding and compliance with treatment.