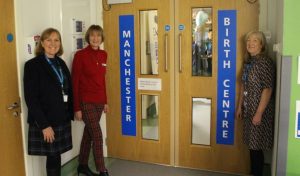 The team at Saint Mary's Hospital Managed Clinic Services (MCS) are proud to have now launched the Manchester Birth Centre at the Saint Mary's Hospital @ Wythenshawe site.
The new Manchester Birth Centre will be the main birth facility for healthy women who are experiencing a low-risk pregnancy and choose midwifery-led care at Manchester University NHS Foundation Trust (MFT).
The facility offers five spacious birthing rooms, each with a birthing pool and en-suite facilities.
The launch on Thursday 9th January came following refurbishments to the existing facilities at Saint Mary's Hospital @ Wythenshawe, after a review of the midwifery-led service and facilities across the Saint Mary's Hospital MCS.
Gill Adgie, Regional Head North at the Royal College of Midwives (RCM), attended the event and formally 'cut the ribbon' for the re-launch. Gill was joined by senior representatives from Saint Mary's Hospital including Chief Executive Officer Karen Connolly, Director of Nursing and Midwifery Kathy Murphy, and Director of HR Vicky Hall.
Kathy Murphy said: "Thank you so much to Gill for the ongoing support of the Royal College of Midwives and all the team at Saint Mary's Hospital for supporting our launch today. Our new facilities offer large rooms each with birthing pools and natural light. Thanks also to our great team who supported the refurbishments and continue to work to support women's choice and continuity across the city of Manchester."
The launch was also supported by the Greater Manchester Maternity Transformation team along with Manchester's Maternity Service commissioners. Saint Mary's MCS midwifery teams from both Wythenshawe and Oxford Road Campus joined for the event, along with families who had given birth at Wythenshawe over the years, and their children. Everyone enjoyed some tea and cake and were shown round the new facilities.