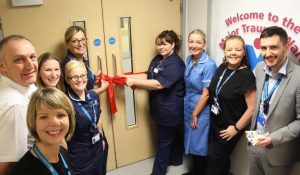 A patient has thanked the staff at Manchester Royal Infirmary (MRI), part of Manchester University NHS Foundation Trust, after being cared for as the first patient in the hospital's new dedicated Major Trauma Ward.
Steph Clay, 35 from Ashton-under-Lyne fell from her loft in her home on Friday 29th November trying to bring down her Christmas decorations. She suffered spinal fractures and was admitted to MRI A&E that evening.
At first she was taken to the hospital's orthopaedic ward to deal with her immediate injuries. Then on the following Monday, Steph was asked if she'd be happy to be moved to the hospital's new Major Trauma Ward, where she could benefit from more personalised care.
The Major Trauma Ward allows patients to benefit from immediate access to a range of specialist treatment all in one place.
In addition to nursing and medical staff on the ward, patients are supported by a team of physiotherapists and a 24-hour trauma consultant, along with coordinated care plans tailored to each individual. The ward currently had 10 beds, with plans to expand this year.
Steph was discharged on Wednesday 11th December and is now recovering well at home with her partner Gary.
Steph said: "I couldn't praise staff highly enough for the care I received at the MRI throughout my whole stay as an inpatient. Everyone was really attentive, caring and committed and they took great care of me.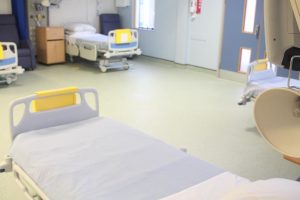 "With the Major Trauma Ward being a new ward I wasn't sure what to expect when I was taken there, but it was all a smooth changeover. I was visited by a physiotherapist on the ward really early on, and they helped me to gain back my mobility and set me on the road to recovery. I'd like to say thanks to everyone on the team for taking such good care of me. "
Vicki Smyth is the Ward Manager on the Major Trauma Ward, responsible for heading up the team and making sure everything runs smoothly. She first joined MRI as a Staff Nurse in 2007.
Vicki said "The new Major Trauma Ward helps us to make sure that the right people are getting the right care at the right time. Patients who suffer a major trauma accident or injury are now reviewed in a more timely way by the right specialist to ensure they have the care they need.
"This is a totally new multidisciplinary team who haven't worked together before so it's great to see that everything has come together so well. It's been a real team effort to get to this point and I'm proud of the team we've built."