Manchester University NHS Foundation Trust (MFT) is kicking off 2020 with a pop up art exhibition featuring creations from staff, patients and specially commissioned works from artists, inspired by the largest NHS Trust in the UK.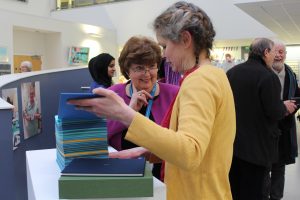 Led by Lime, an arts and health organisation based within the Trust, the programme included printmaking workshops, ward based printmaking activities, music, film, animation and drawing to engage, support and increase the wellbeing of staff and patients.
One of the works, called Shift was inspired by artist Jacqui Symons after shadowing three nursing staff; Ward Sister Emily Robertson, Staff Nurse Gemma Statham and Junior Sister Natalie Hill – throughout a full shift on Ward 45 at Manchester Royal Infirmary (MRI), part of MFT.
The work is presented in the form of three handmade, hand printed books and considers the complexity of nursing by mapping what each nurse achieves during every moment of their shift. Each book is titled with the total number of minutes from each nurse's shift '727 minutes' '754 minutes' and '762 minutes'.
Emily Robertson, Ward Sister at MRI (below right), who was awarded a British Empire Medal in the Queen's Birthday Honours for services to Nursing and Older People's Care said; "Being part of this project has been both fascinating and rewarding. Getting to know Jacqui, the artist and hearing her observations during my working day made me see my role and contribution from an entirely different perspective, which challenged me emotionally and has impacted my practice positively.
"Shift is a celebration of nursing and I hope it helps nurses to recognise their value and the weight of the contribution they make to society with their professionalism and hard work. I also hope it will give the public an insight into the experience of the nurse and the emotional labour and practical challenges every shift involves."
As the largest acute Trust in the UK, MFT employs more than 20,000 staff – almost half of which are nurses and midwives who are qualified across a huge range of roles and specialisms – working across nine hospitals and in the community, providing care for approximately 750,000 people per year.
Professor Cheryl Lenney, MFT Chief Nurse said; "At MFT the Year of the Nurse and Midwife 2020 is about recognising the immense skills, professionalism and hard work of our nurses and midwives. As we look ahead to the future of these professions to consider how they are evolving, we continue to lead the way in exemplifying the diverse range of roles and development opportunities that are being forged to ensure that we continue to meet the changing needs of the people we serve.
"Our pop up exhibition is another example of taking inspiration from outside of nursing and midwifery to reflect on our practice. The work going on display is a culmination of the collaboration between the artists and our staff, which bring to life what the role of nursing and midwifery is in the current day, and showcasing its many challenges and rewards. It also represents our work so far to bring creative and clinical roles together, as well as giving staff and patients a creative outlet, which is beneficial for their wellbeing. The exhibition is the first of many events we are looking forward to as we celebrate the Year of the Nurse and Midwife 2020."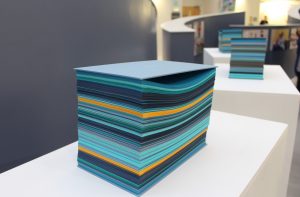 'Shift' will be exhibited as part of a permanent and pop up exhibition to showcase works created during Lime's 2019 Artist in Residency Programme. It will also present works by Artists in Residence Louise Wilde, Colette Whittington and Lisa Clare alongside artwork by staff and patients from Manchester Royal Infirmary, Saint Mary's Hospital and Royal Manchester Children's Hospital.
Lime Art Programme Director, Dawn Prescott is excited to be showcasing Lime resident artists work alongside work co-created with staff and patients at MFT's first hospital based exhibition.
She said; "Art can engage and encourage people to think about the value of nursing in ways they wouldn't normally see. Beyond the margins of performance targets, graphs and clinical evaluation, the artworks capture beautifully what it means to be a nurse. We have a proud tradition at Lime of championing arts and health and I'm so excited to show off the incredible artwork MFT staff have also produced during printmaking workshops. Not every hospital has a print studio on site and we're very fortunate at MFT to be able to support staff wellbeing in this way. I can't think of a better way to start the Year of the Nurse and Midwife 2020."
The project, funded by Arts Council England will be displayed in the Atrium of Saint Mary's Hospital from Monday 20th January. To stay up to date with MFT's activities during the Year of the Nurse and Midwife 2020 follow MFT on Twitter @MFTnhs #YNM2020.