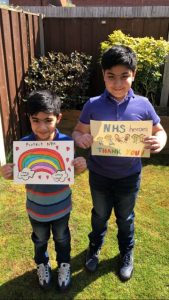 The team responsible for building the new NHS Nightingale Hospital North West and all staff at the site have been given a special 'thank you' badge for their heroic efforts to get the hospital up and running.
The badge, an image of a bright rainbow, was designed by Bury resident Zeidan Qureshi, aged five.
The team at NHS Nightingale put out a call on social media for drawings that could be used to decorate the new hospital site at Manchester Central.
Inundated with images, staff chose Zeiban's picture of a rainbow to be transformed into a special 'thank you' badge for the team, with the rest of the drawings set to be showcased digital displays around the site.
Michael McCourt, chief executive at NHS Nightingale Hospital North West said: "Each one of the images we received made us smile and we're looking forward to having them on display during this incredibly challenging time. The badge is a small gesture of thanks to every member of our fantastic team who have helped build this hospital and to everyone who is working hard here at NHS Nightingale."
Komal Qureshi, Zeidan's mother said: "Zeidan and his brother Ayaan are only young, but they heard about the work NHS staff are doing and wanted to find a way to say a big thank you to them so spent the afternoon creating these pictures. They are over the moon their artwork is going on display and that Zeidan's drawing has been transformed into a badge."
Anyone who wants to find out more about NHS Nightingale or to apply to help at the hospital please visit www.nhsprofessionals.nhs.uk/nightingale