Staff at the NHS Nightingale Hospital North West are celebrating Eid this Bank Holiday weekend, after a shared and inclusive Ramadan.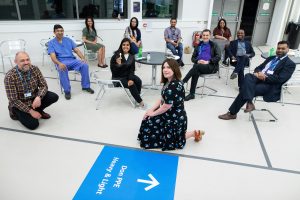 The temporary hospital hosted a socially distant and inclusive Ramadan Iftar Dinner for staff last week, sponsored by Sanam Restaurant in Longsight. It brought together both colleagues who were fasting as part of the Islamic holy month of Ramadan, as well as those taking part in the Fast for a Day campaign for charity.
For many, this year's Ramadan and Eid celebrations looked very different to normal, with the outbreak of COVID-19 meaning that people are unable to visit their loved ones or be able to visit their local mosque to pray. For those working on the frontline, things may have felt especially challenging.
Safina Nadeem, Equality, Diversity and Inclusion Lead at the hospital, said:  "We would like to wish all our Muslim colleagues, patients and communities ' Eid Mubarak'. We know this year, due to social distancing, people cannot celebrate Eid in traditional ways or attend mosques and gatherings but we hope you enjoyed virtual celebrations with friends and family.
"Ramadan and Eid are such a significant time for Muslims and having the Iftar Dinner helped us acknowledge and celebrate the diverse staff we have here at Nightingale.
"Due the current situation, many of our colleagues, had been spending Ramadan alone, so the opportunity to open fast together as one team was very much appreciated by all."
Sheni Ravji-Smith, Organisational Development and Staff Wellbeing Lead at NHS Nightingale Hospital North West, said:
"It was great to be able to bring people together from across the hospital to take part in an Iftar dinner to end their daily fast.
"All of our teams each bring their specialisms and practices together to deliver the Nightingale's mission, to save lives! This is one of the many ways that we recognise our diversities and different strengths – and that working together with our strengths is the only way to make this happen."
John Herring, Deputy Director of Workforce, took part in the fast for a day. He said: "Whilst I am not personally religious I certainly appreciated the mindfulness that fasting brought during the day.
"To share in an Iftar dinner to end our daily fast was really special and for some of the staff there this was the first shared Iftar they had been able to experience in the whole of Ramadan. The nature of working in a hospital, and particularly a field hospital like this, is that we are at our best when we make the most of our diversity and teamwork – we depend on one another. Ultimately, there is more that unites us than divides us."