Consultant Paediatric Surgeon, Ross Craigie at the Royal Manchester Children's Hospital (RMCH) has been interviewed by the Manchester Evening News this week regarding his role during COVID-19.
Prior to outbreak, Ross would normally spend a couple of days a week in theatre, running clinics for patients requiring surgery, performing emergency operations and teaching junior doctors.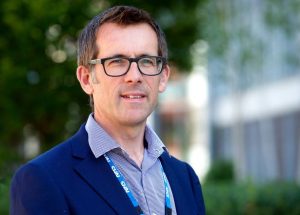 However during COVID-19, Ross (pictured right) has adapted to a new way of working and assisting on wards to support the role of junior doctors.
He said: "The Surgical Junior Doctors are really good at intravenous access – so putting catheters in patients' blood vessels and things like that. So they were taken away from us – quite rightly – to help with catheters for patients coming in with potential Covid.
"That workload that they fulfill at the moment – such as being the initial doctor who reviews the patients in the accident and emergency department, or putting canulars in patients, or prescribing their drips, or prescribing paracetamol – they have been taken away, so as consultants you step up to fulfil that role."
For Ross, the most inspiring thing about working during the pandemic has been the reaction of families.
"The families of our patients have been very understanding and it's been quite humbling that families have been asking if the staff are all safe and okay," he says. "That's been really nice."
He adds: "I feel that my colleagues in the hospital – regardless of whether they're doctors or nurses – always step up when something happens.
"Every family of a child in hospital is anxious but I think that's amplified at the moment, nursing staff especially are fantastic at reassuring families and making them as comfortable as they can in what can only be a very stressful situation.
"When you say 'everybody steps up' it sounds like they don't work at that level normally. I suppose really it has maybe focused the professionalism of everybody in the hospital.
You can read the full article on the Manchester Evening News website here.