Manchester University NHS Foundation Trust (MFT) is at the forefront of COVID-19 research in the UK, with 22 coronavirus studies open at our hospital trust currently and nearly 4,000 participants enrolled to date.
Now, many MFT staff members are involving their children in this vitally important work and a number of Research and Innovation R&I colleagues – along with some of their children – have shared their experiences.
About the COVID Warrior study
COVID Warrior (known within MFT as RAPID-19) is a UK-wide study measuring COVID-19 antibodies in healthy children. It aims to assess the numbers of children under 15 who may have had coronavirus, and if they have antibodies that may be able to fight off the infection. The presence of antibodies is measured via a blood test and children and their families receive their results via text message, phone call or letter. Children taking part in this study will make three visits to hospital in total, enabling researchers to observe how infection rates change when schools reopen.
Nationally, the trial is led at Queen's University Belfast (QUB) – in partnership with the Belfast Health and Social Care Trust Northern Ireland and Public Health England – and you can read more about the study on the QUB website.
At MFT, children are taking part in COVID Warrior at the NIHR Manchester Clinical Research Facility (CRF) at Wythenshawe Hospital and at the CRF at Manchester Royal Infirmary (MRI). Both units are part of NIHR Manchester CRF, which also comprises units at Royal Manchester Children's Hospital and The Christie NHS Foundation Trust.
Dr Tim Felton
Dr Felton is an Honorary Consultant at Wythenshawe Hospital and Senior Lecturer in the Division of Infection, Immunity and Respiratory Medicine at The University of Manchester. He is the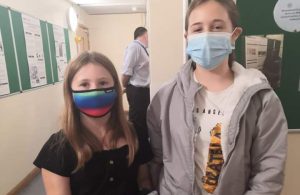 Clinical Lead for all COVID-19-related research at MFT and is a study lead for some specific COVID-19 studies taking place at MFT, including RECOVERY, SCIL-1Ra and ILIAD 7.
His two children, Mia (12) and Eleanor (10) took part in the study at the NIHR Manchester CRF at Wythenshawe Hospital.
Eleanor said: "We both decided it would be a good thing to do. I haven't given blood before but I found it fine."
Mia said: "It was pretty quick, a paediatric nurse explained everything and she was very good."
Both said they would consider taking part in research again in future.
Dr Felton added: "I would be amazed if they did have antibodies as I've been tested and don't have them and neither does my wife, who is also a doctor. That being said, it was a nice experience to show the girls where I work and be able to show what it means to take part in research."
Dr Alex Horsley
Dr Horsley is a Respiratory Consultant at Wythenshawe Hospital and is Medical Director of the CRF at the Hospital. He is a study lead for the ACCORD 2 COVID-19 trial at MFT and lead for the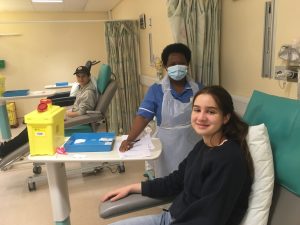 COVID Warrior study at Wythenshawe.
His two children Kate (15) and son Callum (14) took part in the COVID Warrior study at the CRF at Wythenshawe Hospital, where they are pictured (right) along with Senior Paediatric Clinical Research Nurse, Maggie Amegadzie.
Dr Horsley said: "As someone who is involved in a number of COVID-19 studies at MFT, our coronavirus research is personal to me – so it felt natural to get the kids involved!
"They were actually our first two recruits to the COVID Warrior study at MFT, which makes it extra special.
"Increasing our understanding of the presence of COVID-19 antibodies in different populations will add to national understanding of how the virus is behaving and spreading – which enables more targeted national planning – so antibody studies such as this one are of importance to the national and global effort to tackle coronavirus."
His daughter, Kate, added: "The NHS and all it's workers have been amazing, especially during this time, and I am glad to have helped towards this research even in the smallest way."
Maggie Amegadzie, Senior Paediatric Clinical Research Nurse at NIHR Manchester CRF, said: "It's fantastic to be involved in this study and to have met Kate, Callum and lots of other children who have taken part in COVID Warrior at our Trust.
"As our first two recruits, I will be seeing Kate and Callum again in eight weeks' time for their next appointment."
Dr Iain McLean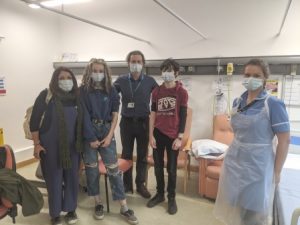 Dr McLean is the Managing Director for Research and Innovation at MFT. He is responsible for the delivery of high quality and safe research services within our Trust, which includes all COVID-19 research studies taking place at MFT.
His two children April (13) and Arlo (12), took part in the study at the NIHR Manchester CRF at the MRI.
Dr McLean said: "MFT is at the cutting-edge of research and innovation and we are leading and delivering a number of COVID-19 research studies – so it's great to be able to involve my children and show them what that means in a real sense.
"When I explained the study to them and that they could participate if they wanted to, they were keen to be part of this nationally important research. It was nice to be able to accompany them at their appointment and show them the world-class facilities we have within NIHR Manchester CRF."
April said: "We talked about it at home and how taking part would help researchers understand more about COVID19 antibodies, which is really important so I wanted to be involved."
Dr Claire Cole
Dr Cole oversees is the Head of Research Delivery at MFT. Her remit includes the work of the Senior Research and Innovation Manager, Alison Robinson, her team of Hospital Research and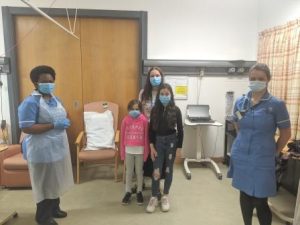 Innovation Managers (HRIMs) and their (non-clinical) research delivery teams.
Her two daughters, Emily (11) and Isabel (eight) took part in the study at the NIHR Manchester CRF at the MRI.
They were looked after by senior paediatric clinical research nurses, Maggie Amegadzie and Michelle Saggers, who explained to the children how the study worked and how by being part of research, they are playing an important part in helping researchers understand more about coronavirus.
Dr Cole said: "Before involving the girls in the study, I explained to them what it was about and asked them if they'd like to be involved – and they both decided separately that they would, which was great. It was lovely to be able to show them what I do and what that means in a tangible way.
"I took up my current role in early March – just as the pandemic was starting to take hold in the UK – so my working life has been consumed with COVID-19 research throughout that time. I wholeheartedly believe in the importance of taking part in research and am participating in the ESCAPE COVID study myself, which is another PHE antibody study, but aimed at MFT staff rather than our children."
Dr Zunaira Kausar
Dr Kausar is an NIHR Clinical Trials Fellow, based at NIHR Manchester CRF at Wythenshawe Hospital, where her four-year-old daughter, Arwa Amin, took part in the study.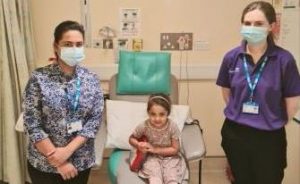 Dr Kausar said: "I work as a clinical trials fellow and I believe we should lead by example, so I wanted my daughter to be a part of research that can potentially give researchers better understanding of this new disease.
"Also, it'll be interesting to know if she has got any antibodies as me and my husband have been working in frontline since start of this pandemic.
"Having specialist children's nurses from the NIHR Manchester CRF made a huge difference – they managed to make her comfortable instantly and my daughter actually enjoyed the whole experience."
*photo caption: left to right – Dr Zunaira Kausar, her daughter Arwa Amin (four) and Zoe Johnston, a Research Administrator who is part of the COVID Warrior Research Team.
Hollie Walton
Hollie is a Senior Clinical Renal Research Nurse, based in Renal Research at the MRI.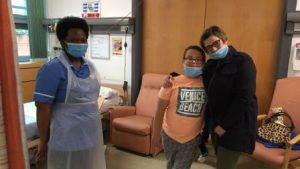 Her nine-year-old son Ben took part in the study at the NIHR Manchester CRF at the MRI.
Hollie said: "When COVID-19 first started, Ben asked me if he could donate blood so that a poorly patient could get his healthy blood – so when I heard about this study I knew he would want to participate.
"We often discuss what mum does at work, so he knew the importance of participating."
Dr Tom Waterfield, lead researcher on the UK-wide trial, from the Wellcome-Wolfson Institute for Experimental Medicine at Queen's University Belfast said: "It is unclear what proportion of UK children have been exposed to COVID-19 and how many, if any, have the necessary antibodies to prevent future re-infection.
"This important research may help with planning for the reopening of schools and other vital children's services."