Dr Simon Byatt
Simon is a Foundation Year One doctor. He is ordinarily based at Manchester Royal Infirmary (MRI) and has been at MFT for around 10 months, following his graduation from post-graduate medicine in the summer of 2019.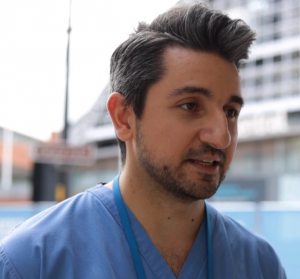 He was on a gastroenterology rotation prior to redeployment, starting at the NHS Nightingale North West Hospital the day it first opened to receive patients in mid-April.
"When I was asked about redeployment I was excited at the opportunity to work in a new role. I personally didn't mind where I worked so I was more than happy to be redeployed somewhere else where they needed more medics.
"It was a great experience and a really impressive what achievement that the NHS Nightingale North West was set up over the space of two weeks. The wards functioned quite similarly to normal hospital wards that I'm used to, however, there were some adaptations to acclimatise to, given the environment. It was steady throughout, which reflects how well the NHS as a whole has coped.
"It was a unique experience and I really enjoyed being part of it. It's unlikely I'll have the opportunity to be involved in the set-up and day to day staffing of a temporary hospital again in my career so I was quite excited to get involved.
"I was able to work with a variety of people from different backgrounds including British Army medics, infectious disease specialists, conflict and disaster medicine specialists and people that have worked all around the world in similar pandemic situations. There was a broad range of knowledge and everyone has been keen to teach from their individual experiences. There was also opportunity to provide input into the organisation and running of medical care, as the clinical leaders were very keen to hear how the junior staff feel wards like these would best operate.
"There were people from all sorts of backgrounds including surgery, dentistry, return-to-work doctors and many others, as well as the acute medics and nurses that are used to working in adult medicine. It was a new challenge in getting everyone on the same page and working at their most effective in what is largely a geriatric patient group suffering from a novel respiratory problem – two things which many redeployed staff may not have had much exposure to in their careers previously.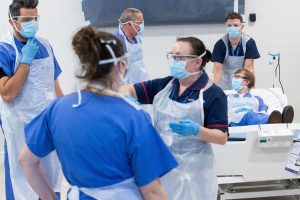 "However, having a workforce comprised of people from such varying environments means there were lots of positive suggestions and new ideas of how the hospital could operate, all of which helped to mould the Nightingale to work in the most effective way possible. I have learnt a lot from many people here and I'm grateful that people have taken the time to teach where possible.
"I count myself lucky as personally I'd much rather be working at the moment than stuck at home. It's been a tough couple of months, mainly for the staff working in intensive care and high dependency units.
"It makes me very proud to be part of the NHS after seeing how well we've handled the pandemic so far and we must continue on with the next challenge of looking to restart the services that had to be postponed due to CoVID-19 and dealing with the inevitable added pressure that beginning to lift lockdown will exert on the healthcare system."
Simon talks in more detail about his experience in this short video.
Dr Evgeny Kushnerev
Evgeny is a Clinical Lecturer and Registrar in Oral Surgery. He is in his third year at MFT in his current post, having previously completed an MSc and PhD at The University of Manchester (UoM), with his clinical placement at MFT.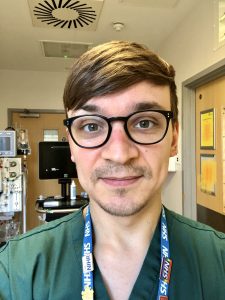 He has a dual academic and clinical role, lecturing at The University of Manchester, as well as carrying out research and performing clinical duties at University Dental Hospital of Manchester (UDHM). In early April he was redeployed to critical care within Manchester Royal Infirmary (MRI).
"Being redeployed to critical care was a big change to my regular pattern, especially long shifts and nights, something I haven't done for some time. However, my senior colleagues and other members of the critical care team provided lots of support, making sure redeployed staff like me didn't feel overwhelmed.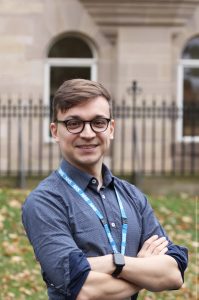 "Prior to being notified of my redeployment place I received a number of communications to ensure all appropriate e-training, mask fitting etc. had taken place. I've never done formal critical care rotations previously, however, I've had some training prior redeployment that helped me significantly. I had some experience in Maxillofacial placement and worked within the hospital environment for some time now. Also, induction to critical care was very efficient and robust to help with accommodation process.
"My redeployment lasted three weeks as the situation started to settle, and escalation was reduced. I found it challenging in some respects; my primary job was to help with some tasks within my limitations, I hope I was helpful. Critical care patients are very poorly and COVID-19 is relatively new, causing symptoms that difficult to address. However, with all support we had, it was an honour to work alongside real heroes who made the difference!
"Being completely honest, different things did cross my mind when I was first asked about being redeployed, nevertheless, I felt that this it was my clinical duty and I hope I was somewhat useful in critical care during national crisis. I felt very supported and being part of the NHS is a privilege being able to help with the crisis. I just hope I've supported NHS to my best abilities!
"The way the NHS has responded to the crisis – with the extraordinary effort from staff across the country – just proves how great the NHS is truly is and that it's our duty to take care of it."
Evgeny talks in more detail about his experience in this short video.