A research study evaluating the presence of COVID-19 antibodies in children and young people is taking place at Manchester University NHS Foundation Trust (MFT).
What's the STORY (Serum Testing of Representative Youngsters) is an observational survey which was initially designed to assess the presence of antibodies against vaccine-preventable diseases – such as diphtheria and meningitis – but has now been adapted in response to the COVID-19 outbreak.
The research is now evaluating the prevalence of antibodies against coronavirus in healthy children and adolescents, and is one of a number of COVID-19 studies that have been given urgent public health research status by the Department of Health and Social Care.
Nationally, blood samples will be collected from at least 2,800 healthy 0 to 24-year-olds, with researchers also recording health and demographic data about study participants. A percentage of the participants will be invited to contribute repeat blood and saliva samples to look for antibodies against coronavirus.
At MFT, a pre-selected group of children living close to our Royal Manchester Children's Hospital (RMCH) have been directly invited to take part via a letter from the study sponsor, the Oxford Vaccine Group, which is part of the University of Oxford. The study is in collaboration with Public Health England.
Hazel Palmer, from Didsbury, brought her 11-month-old daughter, Elsie, to take part in the study at the NIHR Manchester Clinical Research Facility (CRF) – which is hosted by MFT – and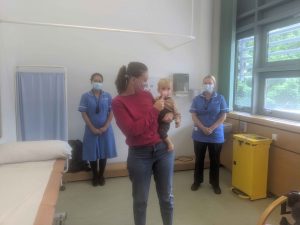 provides a dedicated, safe and quality-assured environment for the delivery of clinical research studies.
Mum and baby were looked after by senior paediatric clinical research nurses, Tahira Dawoodji and Kate Wilkins, who are pictured with Hazel and Elsie.
Hazel said: "We got a letter in the post – my husband and I discussed it and we just thought we should do our bit really.
"It's important to contribute to research and to understanding of coronavirus."
Dr Stephen Hughes is a Consultant Paediatric Immunologist at Royal Manchester Children's Hospital and is the study lead What's the STORY at MFT, where more than 30 children and young people have taken part so far.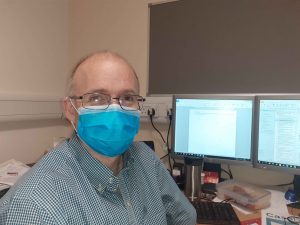 Dr Hughes said: "This research is helping us understand the story of infectious diseases.
"One of the ways our bodies develop protection against infectious diseases is by developing antibodies, either after an infection, or following a vaccination. From the blood samples taken from children and young people participating in the study, antibody levels can be measured and we can understand how many people have been exposed to infectious diseases in the past, including new viruses such as COVID-19.
"During the course of the study, researchers will build a picture of disease circulation in the UK and how this changes over time, which is particularly crucial in the context of the COVID-19 pandemic, about which there is still so much yet to be understood."
Blood samples from all participants taking part in the study will be analysed at the Manchester Public Health England laboratory, located on MFT's Oxford Road Campus.
Dr Hughes added: "Everyone who takes part in What's the STORY will be making an important contribution to fighting infectious disease in the UK, and we are immensely grateful to every child and young person who consents to participate.
"It has been a big team effort to get the study set-up and running at MFT, so I'd also like to thank everyone involved who has enabled us to get to this point. We are proud to be performing this study at our Trust, where we are contributing our long-established research expertise to the global effort to meet the challenge posed by COVID-19.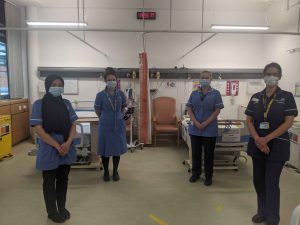 "We are doing this by running a number of COVID-19-related studies across our Trust, including observational studies like this one, as well at clinical trials looking at potential treatments for COVID-19."
There are two other studies evaluating COVID-19 antibodies in children which are taking place at our hospital trust:
• sKID, which involves children and teachers from Greater Manchester schools
• COVID Warrior, which involves the children of MF staff.
Read more about all COVID-19 studies taking place at our Trust in our dedicated website section.
What's the STORY is jointly funded by the National Institute for Health Research (NIHR) and UK Research and Innovation (UKRI).