Manchester's world-class health innovation and precision medicine campus – a joint venture between Manchester University NHS Foundation Trust (MFT), the UK's largest NHS provider Trust, and Manchester Science Partnerships (MSP) – took a step forward today as Citylabs 2.0 reached practical completion.
The Citylabs campus will form part of a new national hub for precision medicine and data analytical businesses, accelerating innovation and translating brilliant research into new healthcare diagnostics and treatments which can be quickly adopted into Manchester's health system.
The first phase of the development at MFT's Oxford Road hospital campus – Citylabs 1.0 – is already home to a thriving cluster of diagnostics, medtech, digital health and genomics businesses which are driving the future of medicine and healthcare.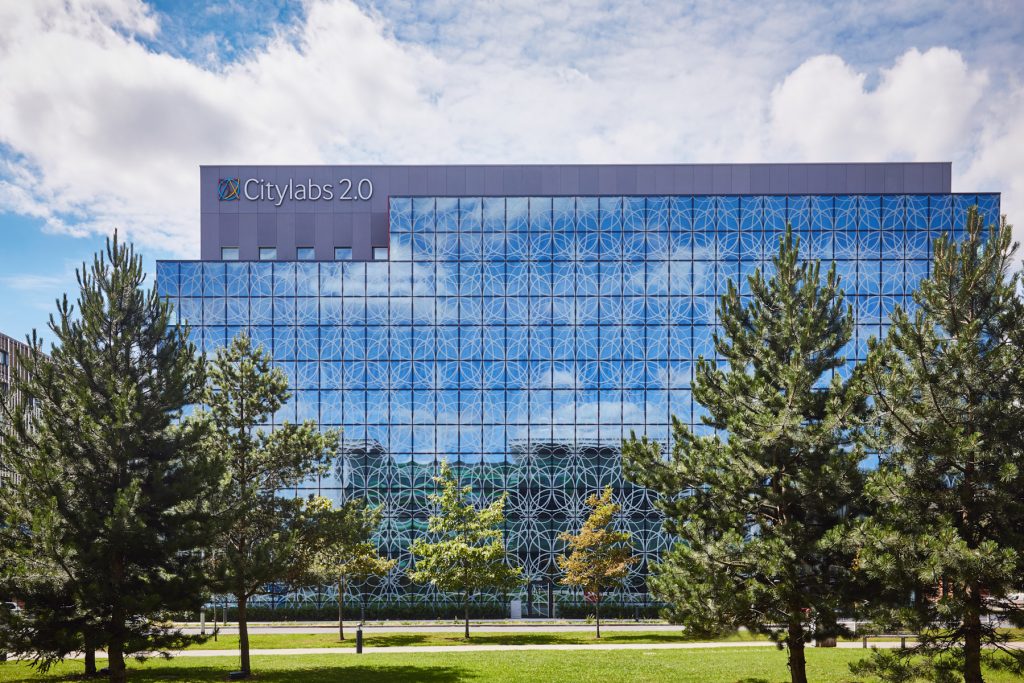 The £25m, 92,000 sq ft Citylabs 2.0, part-funded by the European Regional Development Fund, will create and support up to 1,500 jobs – adding almost £150m to Manchester's economy over the next decade, and is part of a £95m expansion to the campus. Designed by Sheppard Robson, work on Citylabs 2.0 by Sir Robert McAlpine, BuroFour, Gardiner & Theobald, Hilson Moran, Arup and Planit, continued throughout the COVID-19 pandemic, enabling it to complete with minimal disruption. It will be joined by Citylabs 4.0 which received planning consent earlier this year, adding a further 1,200 jobs when complete in 2022.
The Practical Completion of Citylabs 2.0 represents another step forward for Manchester's Oxford Road Corridor innovation district. As Europe's largest clinical academic campus, it is home to 50 per cent of Manchester's life science businesses, contributing to the £3.6bn Gross Value Added (GVA) generated from the corridor each year and is one of the North of England's most important commercial areas.
Global life sciences and diagnostics company QIAGEN employs more than 5,100 people across 35 countries and will occupy the whole of Citylabs 2.0 for its Global Centre of Excellence for Precision Medicine. QIAGEN first announced its intention to move to Citylabs 2.0 in 2017 as part of the UK government's Industrial Strategy. When the fit out completes next year QIAGEN will relocate from their current location at nearby Manchester Science Park.
Tom Renn, Managing Director of MSP and Bruntwood SciTech – Manchester, said: "Our long-term vision for the Citylabs campus is now one step closer in realising its goal to become a world-class centre for diagnostics and health innovation.
"The last few months have showcased the importance of the life sciences sector and particularly diagnostics to society, the jobs it creates and its role in driving the UK forward globally. QIAGEN has been at the forefront of the fight against COVID-19 as a leading developer and manufacturer of test kits to help track the virus. Their expansion into Citylabs 2.0 will act as a magnet for complementary businesses – from start-ups to scale-ups and R&D centres of excellence – helping strengthen the ecosystem of the Oxford Road Corridor innovation district.
"Despite the current challenges we're pleased to have reached Practical Completion at Citylabs 2.0 with minimal delay and can now swiftly progress QIAGEN's fit out. I'd like to thank all of the teams who have worked on Citylabs 2.0 for their ability to quickly adapt at the beginning of the pandemic to enable construction to continue, with a fantastic end result."
Prof Neil Hanley, Director of Research and Innovation at Manchester University NHS Foundation Trust and Professor of Emergency Medicine at The University of Manchester, said: "This is wonderful news. Our meeting with QIAGEN's Global Executive Board in 2017 feels like a very long time ago. A lot has changed since then.
"It is testament to the hard work and focus of everyone and especially the strength of our partnership that this project has been delivered so efficiently."
Sir Richard Leese, Leader of Manchester City Council, said: "The development of this new health innovation and precision medicine campus and the practical completion of Citylabs 2.0 helps confirm Manchester as a world leader in this vital industry, creating a raft of highly skilled health science jobs and providing an all-important economic boost to the city. Manchester's future success depends on building on our distinctive strengths of which life sciences is definitely one."
Sir Robert McAlpine Contracts Manager Paul Quinn said: "Today's completion is testament to the whole team's collaborative approach, and I'd like to say thank you to each and every person involved for pulling together to deliver this world-class facility safely and on time. The added challenges brought by COVID-19 only served to highlight the expertise, creativity and adaptability of those who have worked so hard to arrive at this point. Sir Robert McAlpine is delighted to be involved in the creation of a campus that will help support Manchester's future economy and allow the city to stake a claim as a leading hub for this increasingly important field of science."
Businesses based at Citylabs have access to clinical and academic collaborators located on the campus, as well as extensive tailored 1-1 business support, including advice on funding sources and Enterprise Zone rate relief, new markets, and professional services. They also benefit from the talent pool generated from the surrounding hospitals and the UK's largest student population at Yhe University of Manchester and Manchester Metropolitan University.