Manchester University NHS Foundation Trust (MFT) and The Christie NHS Foundation Trust in Manchester are trialling innovative artificial intelligence (AI) wireless monitoring technology that could lead to quicker interventions for patients with COVID-19.
The (COntinious Signs Monitoring In Covid-19 patients) COSMIC-19 pilot study aims to identify in advance patients who will deteriorate, and predict those who will need intensive care treatment.
Conducted at Manchester Royal Infirmary (MRI), part of MFT, and The Christie, COSMIC-19 aims to recruit 60 inpatients being cared for on general wards, who are suspected or confirmed to have COVID-19.
Lucinda Heaps, 36 from Urmston, became the first patient to take part in COSMIC-19 after she was enrolled onto the trial at the MRI on 19 July 2020.
Lucinda said: "I'd not been well for the last eight weeks, I have mild COPD and I've had pneumonia before, so I don't have the best lungs.
"I started getting very ill at home, and really quickly I was coughing-up fluid, it was just horrible. I went to the GP and he phoned an ambulance. My heart rate was really high, oxygen really low and I couldn't breathe."
Lucinda was admitted to the MRI on 16 July and was cared for by the acute medical team. She agreed to take part in the COSMIC-19 trial which is being coordinated by the COVID-19 research team and Dr Anthony Wilson, an Intensive Care Consultant at the MRI.
Lucinda said: "I've had a positive all-round experience. At least two members of the research team have come to see me every day and they've gone through everything and explained things, always saying I could stop at any point if I wished to.
"All the staff have been lovely, and Dr Anthony would come and have a chat with me. This research also helps protect staff as everything done by Bluetooth, so it gives them a way to monitor you at a distance.
"It's the first time I've ever taken part in any form of research or trial and it's been really positive and informative. If I'm just one patient that you learn one little thing from, that's a small part of a bigger picture. I didn't know whether I had COVID-19 or not when I came into hospital, but I've seen what this research can do for a patient with coronavirus."
Approximately 10 to 20 per cent of hospital inpatients with COVID-19 will need intensive care. Older, male patients with underlying health issues such as a heart and lung conditions or diabetes may be at the highest risk. Patients on the trial will be monitored for 20 days until either placed on a ventilator or discharged from hospital.
The research team are using a state-of-the-art monitoring platform, which uses wireless, wearable sensors to automatically collect and analyse each patient's vital signs such as pulse rate, temperature, breathing and oxygen levels in real time.
Lucinda said: "The sensors have been really easy, once they're taped on you forget about them, they don't move or beep or anything. There are four different sensors, placed on your chest, arms and wrists."
Lucinda has now been discharged from hospital and is recovering at home.
Such detailed vital signs monitoring is not normally available on hospital wards in the UK, with these observations usually recorded periodically by nursing staff. The patients taking part in the study will still receive the NHS standard of care, based on the usual checks from ward nurses.
Together, the team will use AI to look for patterns in the patients' vital signs that could alert the medical team if the patient is deteriorating. If the data indicates that the patient needs critical care, the medical team can intervene earlier, giving patients the best chance of recovery.
The COSMIC trial, led by Professor Fiona Thistlethwaite, medical oncologist at The Christie, said: "Unfortunately some patients who are suffering from COVID-19 on our hospital wards can become seriously unwell. By using this system, we hope to be able to identify these patients early and this may mean we can optimise their management without the need for them to go to intensive care.
"We can also monitor the patients' vital signs on a screen located in a different part of the hospital, and we hope that eventually this will mean that as well as keeping our patients safe, we can reduce exposure to the virus for our staff."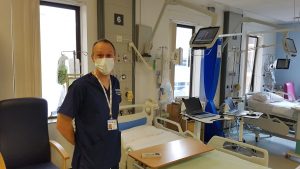 Dr Anthony Wilson (right) said: "The intensive care team at MFT has cared for many people with COVID-19 infection in the last four months. We are really grateful for patients like Lucinda who have agreed to take part in priority COVID-19 research.
"We are excited to be trialling new technology in Manchester that may allow us to intervene earlier and give patients a greater chance of getting better. This technology is a glimpse of how we will monitor hospital patients in the future and it's fantastic that MFT and The Christie are frontrunners in such innovation."
This study is funded by UKRI's industrial strategy challenge fund and The Christie charity and involves a collaboration with Zenzium and Aptus Clinical; two healthcare technology companies based in Greater Manchester. The monitoring platform is developed by Isansys Lifecare.