Patients with cardiac conditions can now benefit from new and improved services, thanks to innovative work being undertaken at Manchester University NHS Foundation Trust (MFT). Manchester Royal Infirmary and Wythenshawe Hospital, both part of MFT, are pioneering new procedures and ways of working; including the world's smallest pacemaker and inventive 'drive in' pacemaker checks for existing patients.
Manchester Royal Infirmary – first world's smallest pacemaker
Consultant Cardiologist Amir Zaidi recently performed the first implant in the North West of the world's smallest pacemaker.
A pacemaker is a small device which regulates the heart beat for patients who have failure of the electrical system within the heart which causes the heart to beat too slowly. This may cause blackouts or even death. Normally a pacemaker consists of a box which is implanted in the chest wall, with wires inserted into the heart through the main vein under the collar bone to transmit electrical impulses to the heart to make it beat.
At one-tenth the size of a traditional pacemaker, the device, known as the Micra™ AV and produced by Medtronic, is 93% smaller than conventional pacemakers and measures just under 3cm long.
Amir Zaidi, Consultant Cardiologist at Manchester Royal Infirmary said; "We are extremely pleased to be the first in the North West to use the new Micra™ AV pacemaker. The device is smaller than current pacemakers, and therefore minimally invasive to fit and can offer multiple benefits to patients, especially for patients who may be higher risk or for whom other types of pacemaker are unsuitable."
For the patient, this means that implanting the device is simpler as it is delivered directly into the heart through a catheter and it's less restrictive when it comes to movement afterwards. There's no chest scar and it's not visible under the skin, weighing as little as 2 grams.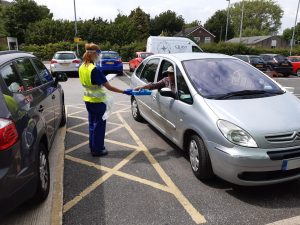 Wythenshawe Hospital Heart Centre introduces 'drive in' pacemaker checks
Wythenshawe Hospital Cardiac Centre have introduced an innovative new way for their patients to get their pacemakers checked – that keeps contact minimal and ensures both staff and patients safety.
Following a successful trial, the team have rolled out a 'drive in' pacemaker clinic – a new express clinic in the car park for patients with existing pacemakers. This allows patients who need to have a pacemaker to receive a check from their car, via a pre-booked appointment slot. Cardiac Physiologists are able to check and download their information on the spot and troubleshoot any issues, without the patient having to attend a clinic within the hospital.
The check is safe, quick, and efficient.
This is just one creative solution that the cardiac centre team have introduced to ensure that patients don't miss out on vital checks and care.
Robert aged 68, from Manchester, who visited the clinic recently, said; "It was really easy, even faster than a normal pacemaker check I would have had in the room. I was straight in and out. I didn't have to find a car parking space and I didn't need to wait in the waiting room. The check was very quick and the team were really good, caring and explained everything really well. It's a great service."
Another way the team at Wythenshawe Hospital is making innovative changes involves video appointments, where patients can attend a pre-booked slot to get fitted for their monitoring devices, which they wear home to record their heart rhythm over a period of time. The team now initialise the monitors before the patient arrives and then the patient is escorted into a room, where there is a video demonstrating to the patient how to put the monitor on by themselves. A member of the team is also available to troubleshoot, if required, outside the room. This allows for social distancing and has been received very well by all patients who have attended so far.
Jacob, aged 30, from Burnage; "I was really pleased with the monitoring service, it was very straight forward. Initially I was a bit worried I may put the electrodes in the wrong place but the video was very good at explaining and I was able to pause it so that I could get it right."
Toli Onon, Joint Group Medical Director at Manchester University NHS Foundation Trust said; "At MFT we provide some of the leading cardiac services in the country and we are particularly proud of how our teams have adapted in recent months to provide innovative solutions and continue to deliver an excellent standard of care for our patients."
Jane Eddleston, Joint Group Medical Director at Manchester University NHS Foundation Trust added; "The North West Heart Centre at Wythenshawe Hospital has creatively started 'drive in' pacemaker checks to ensure patients get access to an efficient and crucial service, that was designed and trialled in collaboration with service users. The team at Manchester Royal Infirmary continues to pioneer state of the art pacemaker implants to ensure we are able to bring the most cutting edge care to those who need it."