Patients not attending urgent endoscopies because of fears of Covid-19 are at risk of missing the opportunity for diagnosis and treatment of serious conditions, warn doctors.
Initially up to 60% of patients across Greater Manchester did not attend their procedure after lockdown was lifted because of worries about catching the virus. Patients are urged to attend for their endoscopy because their doctor thinks they may have a serious condition which needs investigating. The risk of missing a diagnosis and any possible treatment far outweighs what is now a low risk of catching any infection in hospital, say local specialists.
Hospital teams are taking significant steps to minimise the risk of Covid-19, which include stringent infection controls and the use of PPE, including a requirement for all staff and patients to wear masks. Only patients without any Covid-19 symptoms are allowed into non-Covid areas of hospitals, where endoscopy clinics are based. Social distancing, hand hygiene and frequent surface cleaning are enforced. In endoscopy units, all clinical staff are in PPE, rooms are deep cleaned after each procedure, including filtering room's air between patients.
Patients triaged and assessed as routine may have a longer wait to be seen. They are encouraged to seek advice from their hospital endoscopy team [how to provide advice may be decided at a trust level] if their symptoms change or worsen.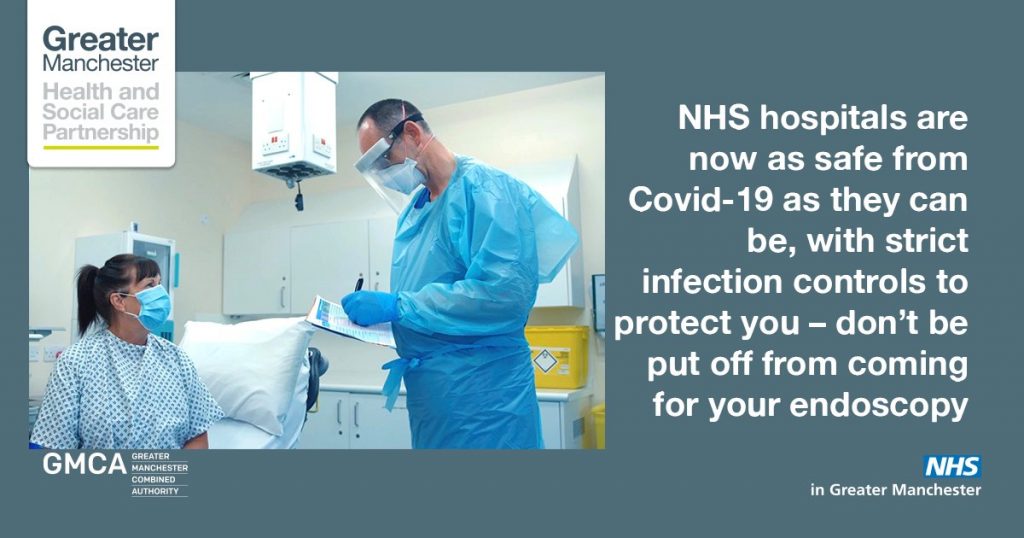 (Click image above to watch video for further information)