Chief Nurse at England's largest Trust in Manchester awarded OBE Professor Cheryl Lenney, Chief Nurse at Manchester University NHS Foundation Trust (MFT), has been awarded an OBE in today's Queens' Birthday Honours list.
T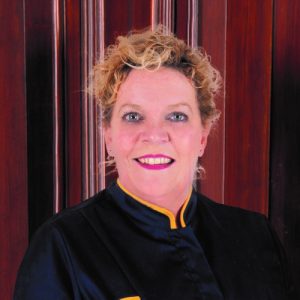 he Honour recognises Cheryl's contribution to nursing and midwifery over her career as well as her work in responding to the recent COVID-19 pandemic. She has over 38 years' experience as a nurse and a midwife and has worked for MFT and its predecessor organisations since 2002.
Cheryl began her career as a Registered General Nurse and Midwife in 1981/82. As a Midwife she has championed normal birth appointing the first Consultant Midwife for Normal Birth in 2000 and achieved the First Charter Mark for Maternity Services in England. She has played a significant role in developing the early national leadership programmes for Midwives and continues to support the development of midwives through education and research at Saint Mary's, improving care for women and their babies.
She has taken significant leadership roles across Greater Manchester, leading one of the first and largest cohorts in England for the introduction of the new Nursing Associate role which is now offered through an apprenticeship route. She has worked with Greater Manchester Universities to increase the number of student nurses and midwives coming into the profession leading one of the largest areas of growth in student numbers nationally.
In her role as Honorary Professor for Nursing and AHPs at the Manchester Academic Health Science Centre (MAHSC) and Visiting Professor in Nursing at the Manchester Metropolitan University (MMU), she provides clinical and professional leadership, developing clinical academic roles and opportunities to support nursing, midwifery and AHP research to improve the care offered to patients. Cheryl was a member of the team which was successful in achieving funding for one of 15 national Applied Research Collaboratives for Greater Manchester.
Sir Mike Deegan, Group Chief Executive at Manchester University NHS Foundation Trust, commented: "I am delighted that Cheryl's outstanding work has been recognised through this Honour. Her career demonstrates her passion for nursing and midwifery and developing a better health and social care system through people; building networks to influence and advocate the benefits of collaborative working.
"The COVID-19 pandemic is an unprecedented situation for the NHS and Cheryl's leadership, professional knowledge and experience has been instrumental in ensuring that quality, safety and patient experience is always central to MFT's response."
Throughout the pandemic, Cheryl has ensured that there were sufficient nurses able to be redeployed from their usual workplace into the significantly increased critical care areas to care for patients with COVID-19 and in partnership with the universities supported hundreds of student nurses, midwives and AHPs into the workforce.
As Director of Infection Prevention and Control for MFT, Cheryl also leads the Trust's infection control response to COVID-19.
Cheryl commented: "I am proud and humbled to be included in the Queen's Birthday Honours List and to receive this honour. It is also a reflection of the commitment and dedication of all of our nurses and midwives to delivering high standards of care every day for our patients.
"I have had the privilege of working with so many fantastic nurses and midwives throughout my career who have supported me to make a difference to the people and communities we serve and, to our professions.
"In this Year of the Nurse and Midwife, nurses and midwives have been at the heart of the pandemic response and I am very proud to lead the professions at this challenging time."