Marie Zsigmond, Named Midwife for Safeguarding, based at Saint Mary's Hospital, part of Manchester University NHS Foundation Trust (MFT) has been awarded a British Empire Medal (BEM) for services to Midwifery and Midwifery Safeguarding in the Queen's Birthday Honours 2020.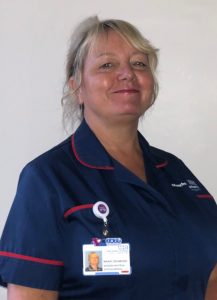 Incredibly, Marie has been a midwife at Saint Mary's Hospital since 1994. Each year, more than 13,000 babies are delivered at Saint Mary's Hospital at its Oxford Road site and maternity units at Wythenshawe Hospital and North Manchester General Hospital.
As a Named Midwife for Safeguarding, Marie's role involves ensuring that expectant mothers and their babies are protected and supported during and after their pregnancy. In 2016, Marie and the team were presented with a Royal College of Midwives Award for their work with Police and Social Care organisations to protect potential victims of trafficking.
In 2019, Marie was presented with the Chief Midwifery Officer for England's Gold Award for Excellence in Midwifery for her contribution to the profession and was particularly recognised for her role in the development of a Young Parents Specialist Midwifery Service.
Having worked in a variety of roles from antenatal clinics, to a community midwife, Marie developed the role of specialist midwife for Young Parents in 2003 before becoming the Named Midwife/Matron for Safeguarding as part of the corporate safeguarding team in 2008.
Last year, despite trying to take flexi-retirement to spend more time with her five children and six grandchildren, Marie soon returned in the same role as a job share and shows no signs of hanging up her uniform any time soon.
With more than 27 years' experience, Marie still has an immense passion for her role and reflecting on her career, she said; "The best bit of my job has been working with some of the most amazing midwives and colleagues and being part of such a wonderful organisation.
"The one thing that keeps me coming into work each day is the fact that I know that myself and the Safeguarding Midwives Team have helped to protect vulnerable at risk babies and their families every day, and that if we have contributed to any of them being saved from harm then that is the greatest award ever. The Trust-wide Safeguarding Team support each other every day, to make sure that anyone who is under the care of MFT is protected from harm wherever possible.
"I am humbled, proud and actually thought it was a joke when I was told I had been nominated. My late parents loved the Queen and Honours List, so they would have been very proud, as are my children and family, but I couldn't have managed even one day without the support of them all. I do not have any plans to retire completely in the near future, so I will still be around for a while and I'm still enjoying my midwifery career."
Chief Nurse at Manchester University NHS Foundation Trust, Professor Cheryl Lenney, said; "We are immensely proud of our Midwifery and Safeguarding services at MFT and Marie embodies the changing nature and innovation of the role over her long career. Marie is an asset to our organisation and it is a huge testament to her hard work and passion for her role as a midwife that she has been so fittingly recognised in the Queen's Birthday Honours this year and during the international Year of the Nurse and Midwife."