Esin Eno-Obong, Ward Clerk on the Adult Critical Care Unit at Manchester Royal Infirmary, part of Manchester University NHS Foundation Trust (MFT) has been awarded a British Empire Medal (BEM) for services to the NHS during the COVID-19 pandemic. And to make his week even better – he has just become a new dad!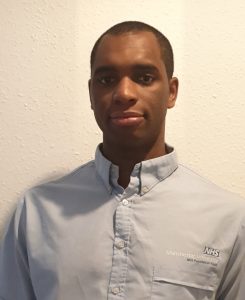 Esin – affectionately known as 'Kev' by his colleagues – works between the Intensive Care Unit and High Dependency Unit which are co-located. He joined the team in October 2019 providing administrative support to the nursing and medical teams, greeting relatives and guiding them to their loved ones as well as managing telephone calls to the Unit.
Jane Eddleston, Joint Group Medical Director, said: "Kev has that extra spark, showing the kindness and warmth that patients, families and staff look for when they are facing particularly difficult challenges and worries in their lives. Whilst Kev's usual role as Ward Clerk includes taking telephone calls from the relatives of our patients, his excellent communication skills, demonstrating kindness, understanding and compassion were paramount during the pandemic. He especially ensured that updates from the nursing and medical team were provided appropriately and that the distress and anxieties of relatives were alleviated with kindness and forethought. Kev is a truly outstanding colleague and his organisational skills, compassion, endless energy and communication enhanced the team's response to the challenges faced in ICU during the pandemic. We are absolutely delighted for him that he has received this Honour."
Kev also supported the clinical team at very short notice when the Trust started the Antibody Testing Programme. His personal contribution, energy and focus ensured that the first day of testing ran smoothly and efficiently enabling over 170 staff to be tested within a few hours. During the pandemic, not only did he support his two usual areas of work, he also offered his assistance, knowledge and skills to five other areas caring for critically ill COVID-19 patients.
Kev said: "I am thrilled to receive this Honour. To be able to support the team and help patients and families when they are facing difficult times is something I find so rewarding. I'm proud to be part of such an incredible team at MRI."