A Manchester man hospitalised with COVID-19 in the early days of the pandemic is now giving back to the NHS by taking part in research – and is encouraging others to do the same.
Steven Silver, who is 69 and lives in Altrincham, first became unwell in early March, and was 'shocked' when he was diagnosed with coronavirus.
After his oxygen levels fell progressively, he was admitted to Wythenshawe Hospital, part of Manchester University NHS Foundation Trust (MFT), on 26 March.
Mr Silver said: "I was at home for around two weeks before I was admitted to hospital and I was really, really ill.
"I was experiencing horrendous headaches; I couldn't get out of bed, and when I was eventually able to get out of bed the room just span round. As the days went on, I was short of breath and having terrible difficulty breathing.
"Everything tasted like straw and I just didn't want to eat. I can't remember losing my sense of smell, but I certainly lost my sense of taste.
"I was just completely lethargic, which is totally unlike me, although I'm 69 I'm quite fit – I play tennis and walk a lot."
While grateful for the kindness from staff at Wythenshawe Hospital, where he received care for 13 days, Mr Silver found the experience extremely difficult.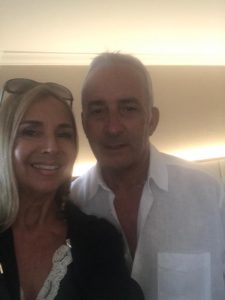 "My wife drove me to the hospital, and we sat in the car and waited for someone from admissions to come out. They brought me a wheelchair and that was it, I didn't see my wife for two weeks. My two children live in London and they were extremely worried.
"For the next few days I was really, really bad. You don't sleep at all, you just watch the clock hands work their way around.
"My father died two years ago and there was a night when a nurse came and sat with me most of the night and I looked up at the ceiling and I thought 'dad, I'll be with you in 10 minutes'.
"But I got through it, and when I came out of hospital, I was determined that we got back to some normality."
With the help of his wife Jill, who Mr Silver joked is 'extremely strict' with him, he worked on regaining his health and fitness – gradually building up from 1,000 to 10,000 steps a day.
"I feel unbelievably better and I mean that. My daughter was pregnant with her first child, so I had a focus and I just became consumed with health and getting better. She gave us a beautiful granddaughter in early November, so a wonderful Christmas present.
"I'm back playing tennis once a week, I'm drinking lots of water which I never used to do, along with the walking."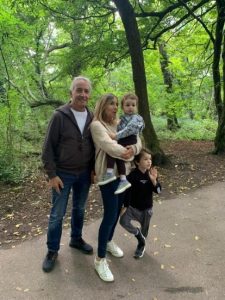 When asked to take part in PHOSP COVID research study, Mr Silver didn't hesitate.
Led by the University of Leicester, the study seeks to investigate the long-term impacts of COVID-19 on the health outcomes for patients who were hospitalised due to the virus.
More than 20 universities and their partner NHS trusts – including MFT – are involved. The study consortium aims to recruit 10,000 people in total.
Mr Silver said: "I had to come back to Wythenshawe for some tests and X-rays and I was asked by the team if I would enter into this research and I said yes absolutely, whatever I can do to help.
"This is a really horrific virus and it needs research into it. I've been there and got the t-shirt and I realise that other people are worse than me, so we've all got to put our penny's worth in."
At MFT, the PHOSP COVID study is taking place at the NIHR Manchester Clinical Research Facility (CRF) at Wythenshawe Hospital, a purpose-built space dedicated to the delivery of world-class research.
Respiratory Consultant, Dr Alex Horsley, is the Medical Director of the CRF at Wythenshawe Hospital, as well as leading the study at the hospital.
Dr Horsley said: "This is a really important national initiative which we are really pleased to be playing an important part in.
"Our multidisciplinary team – which includes physiotherapists, research nurses, practitioners– provide detailed assessments to people at the six-month and 12-month stage after their discharge from hospital following COVID-19 infection.
"Taking part in this research involves a series of tests, symptom questionnaires and some blood tests, as well as physical assessments to assess long-term recovery.
"We hope findings will provide incredible detail on the consequences of COVID-19 infection, which will then help us to improve recovery-management for people who have had coronavirus, and to understand this and future pandemic infections."
Dr Horsley, who is also a researcher with the NIHR Manchester Biomedical Research Centre (BRC) Respiratory theme, added: "I'd like to thank Mr Silver and all our participants in this vital research and we're really looking forward to inviting more former patients back in the next few months."
The PHOSP COVID study is supported by a grant to the University of Leicester from the MRC-UK Research and Innovation, and National Institute for Health Research (NIHR) rapid response panel to tackle COVID-19 and by core funding provided by NIHR Leicester Biomedical Research Centre – a partnership between the University Hospitals of Leicester NHS Trust, the University of Leicester and Loughborough University.
Find out more at: www.phosp.org.