Dr Fozia Ahmed, Consultant Cardiologist at The Manchester Heart Centre, part of Manchester Royal Infirmary (MRI) has been recognised at this year's National Pumping Marvellous Foundation awards for her outstanding contribution to Heart Failure services.
Dr Ahmed is this year's winner of 'The Roy Award', which is presented to an individual who has shown outstanding contribution and excellence in heart failure care. This award reflects the direct impact this person has had on their local community whilst, producing the highest standards of care for their patients.
Joint Group Medical Director at MFT, Toli Onon presented Dr Fozia Ahmed with her award.
CEO and Founder of The Pumping Marvellous Foundation, a UK Heart Failure Charity, Nick Hartshorne-Evans commended Dr Ahmed for her outstanding focus and services to heart failure.
He said; "We didn't have to think hard to quickly come to the conclusion that Dr Fozia Ahmed is a very worthy recipient of the Roy Award. Having worked with Fozia for a number years, the charity recognises her unbelievable level of commitment and drive to ensure people living with heart failure get the best possible treatment and care.
"Every patient who meets Fozia, from the charity, remembers her. Fozia radiates with confidence and her personality is magnetic. We wish Fozia all the best in the direction she takes, knowing this will always be underpinned by the needs of the patient."
Dr Fozia Ahmed, who has worked as a Consultant Cardiologist at the MRI for five years will receive her award alongside a commendation letter from the Charity.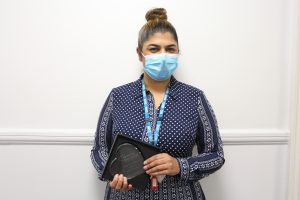 She said; "I am honoured to be recognised for this award. Pumping Marvellous work hard to advocate on behalf of patients to improve heart failure care in the UK and specific to Greater Manchester, our heart failure population could benefit greatly from the improved access and quality of care."
The Roy Award is in memory of Roy Heesom who died of heart failure in 2016. The award was created in recognition of his family's subsequent work to raise the awareness of heart failure, along with their fundraising efforts and achievements.
Chief Executive of Manchester Royal Infirmary, Vanessa Gardener said; "We are incredibly proud of Dr Ahmed and this award is very well deserved. She has shown real innovation and commitment to our heart failure patients at the MRI, to the improve the quality of care and outcomes for patients. Well done to Fozia."
Heart Failure is a life-threatening condition in which the heart cannot pump enough blood around the body. It affects approximately 1 million people in the UK and 64 million people worldwide. It is a chronic disease where around half of patients will die within five years of diagnosis.
To find out more about the Charity and to read more about the award winners, click here.