Sarah Wallace, Consultant Speech and Language Therapist at Manchester University NHS Foundation Trust (MFT) has been awarded an OBE in today's New Year Honours list.
The Honour recognises Sarah's work as an internationally recognised leader and senior clinician within the field of dysphagia and critical care in speech and language therapy (SLT) as well as her vital role in responding to the COVID-19 pandemic.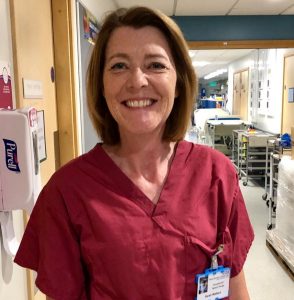 During her career she has pioneered clinical innovations that have positively improved patients' lives helping them to speak, eat and drink earlier. Her work has been disseminated nationally and internationally through policies, guidance, research papers and presentations.
She has championed the role of SLT within critical care supporting the widespread development of SLT services and competencies across the UK and overseas. This includes volunteering with a non-governmental organisation to provide dysphagia and tracheostomy training in Cambodian hospitals.
In addition to her frontline role in MFT Critical Care, based at Wythenshawe Hospital, Sarah is SLT lead for the National Tracheostomy Safety Project and the Intensive Care Society (ICS); and a Specialist Advisor in Critical Care and Dysphagia for the Royal College of Speech and Language Therapists (RCSLT).
Sarah has been instrumental in responding to the Covid-19 pandemic, sharing learning regionally, nationally and internationally through publications and webinars, and contributing to the ICS Rehabilitation framework and the NHS 'Your Covid-19 Recovery' patient website.
Prof Jane Eddleston, Joint Group Medical Director at MFT said: "I'm absolutely delighted to see Sarah receiving this great honour in recognition of her tireless work caring for patients, and of her outstanding contributions to the field of Speech and Language Therapy, not just with Covid patients this year, but throughout her entire career.
"The positive impact Sarah has had on patients and their families throughout her career is indescribable. She is often responsible for facilitating a patient's voice for the first time since a traumatic event, allowing them to communicate with their loved ones once again.
Ms Toli Onon, Joint Group Medical Director at MFT, added; "Sarah's passion for research, education and training is equally outstanding. Her work in a number of fields has provided invaluable assistance to clinicians nationally and internationally, allowing them in turn to provide an improved standard of care for their patients."
Tim Keeler, Chief Executive of Clinical and Scientific Services (CSS) at MFT said: "It's a true pleasure to see that Sarah's hard work, dedication and insight throughout her highly decorated career has been acknowledged with such a high honour. She is testament to how invaluable Allied Health Professionals are in the healthcare workforce."
Sarah said: "I'm really thrilled and overwhelmed to receive this honour, and it is absolutely fantastic to see the vital contribution of SLT to critical care recognised in this way."
"Whilst it's been a challenging year for everyone, I'm immensely grateful to all our inspiring patients and to my incredible colleagues for their commitment and support enabling me to do what I do."