A Manchester Royal Infirmary (MRI) doctor and researcher has coordinated a national team of experts to publish guidance for clinicians to help them safely manage hyperlipidaemia patients during the COVID-19 pandemic – including those who have coronavirus.
Hyperlipidaemia is a concentration of too many fats (lipids), such as cholesterol, in the blood. Dr Handrean Soran, a Consultant Physician and Endocrinologist at the MRI – part of Manchester University NHS Foundation Trust (MFT) – cares for patients with the condition, and also chairs the HEART UK Medical, Scientific and Research Committee.
Led by Dr Soran, the Committee has published a expert consensus statement in Atherosclerosis, European Atherosclerosis Society Journal, which is based on available evidence and the clinical recommendations of experts in the field. The statement provides guidance for managing hyperlipidaemia, rare genetic disorders in lipid metabolism and atherosclerotic cardiovascular disease (ASCVD), during the pandemic.
ASCVD is a disease of the arteries, characterised by the deposition of fatty material on their inner walls of the arteries. People who have the condition are at increased risk of severe illness and death if they contract COVID-19.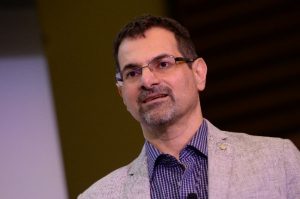 Dr Soran said: "The fatality rate as a result of COVID-19 is unpredictable, but is amplified by several factors; including advancing age, ASCVD, diabetes, high blood pressure, obesity and lung disease.
"A large proportion of patients with these conditions are treated with lipid-lowering medications, and questions regarding the safety of continuing such medication in patients infected with COVID-19 have arisen.
"The Committee has concluded that there is no need to stop taking lipid-lowering medications because of the COVID-19 pandemic. This is especially important for patients who are at high risk of cardiovascular disease in whom stopping lipid-lowering therapy can increase the risk of heart attacks and strokes.
"Patients who are being treated for high cholesterol should continue with their recommended diet and lifestyle measures, and should not interrupt their prescribed medication.
"However, risks from drug-drug interaction and organ damage, in particular liver, kidney and muscle, should be monitored and assessed in patients confirmed with COVID-19 by the medical team and alterations should be considered.
"COVID-19 may cause direct liver injury and it is important for clinicians treating coronavirus patients to consider this when providing treatment for patients taking lipid-lowering therapies – the majority of which are metabolised in the liver."
Jules Payne, HEART UK's CEO, said: "This is the third expert HEART UK consensus statement under the leadership of Dr Handrean Soran. Our statements are very well cited and have real impact on treating and managing lipid patients. This is a really important statement that crosses the barrier with treating and managing hyperlipidaemia during the COVID-19 pandemic.
"HEART UK's is a national charity and a professional body providing expert support and education for patients with lipoprotein disorders, Atherosclerosis and high cardiovascular risk. We support patients, relatives and the healthcare professionals treating those patients. Our work is all about prevention, saving lives and keeping families together for longer."
Read the HEART UK consensus statement here: https://www.atherosclerosis-journal.com/article/S0021-9150(20)30504-9/fulltext