This week during Volunteers week (Tuesday 1st – Monday 7th June 2021) we are celebrating our wonderful volunteers.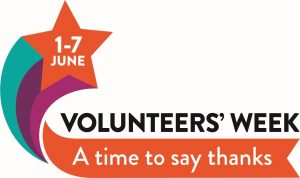 We appreciate the fantastic work that they do every day, but it is a particularly special time for us to recognise their dedication to their role at MFT, and we are using this week to promote and recognise each and every one of them.
In line with this year's theme 'A Time to Say Thanks', we want to take the time to say a big THANK YOU to our brilliant MFT Volunteers for their time, dedication, commitment and effort, especially during what has been a really challenging year.
Colleagues have been getting in touch with us with their volunteer stories, which we have been promoting on our Patient Experience Twitter page @MFT_PatientExp.
To celebrate Volunteers' Week, Voluntary Services and the Patient Experience Team have been:
Promoting a recorded video message, that has been made for our MFT volunteers and partnership charitable groups by Group Chairman Kathy Cowell OBE DL
Distributing thank you cards to our volunteers
"You Said We Did!" Following feedback from our Volunteers we have commenced the distribution of new uniforms including gilets and fleeces to support our Volunteers who distribute Face Masks on the hospital's main entrances
Promoting teams volunteering stories on Twitter @MFT_PatientExp
Asking our Volunteers "What Matters to Me" about their experiences working here at MFT
Working in partnership with NCA Voluntary Services at NMGH to provide a warm welcome to the volunteers who are transferring over to the MFT volunteer services following the recent merger
Each day of Volunteers' Week will be associated with a particular theme:
1st June: Staff thank you to our volunteers
2nd June: Volunteers 'What Matters to Me'
3rd June: Inclusivity and Diversity within voluntary services
4th June: MFT volunteer roles and opportunities
7th June: Key highlights of the previous week's celebrations