Jemma Haines, Consultant Speech and Language Therapist at Manchester University NHS Foundation Trust (MFT) has been awarded an MBE in today's Queen's birthday honours list.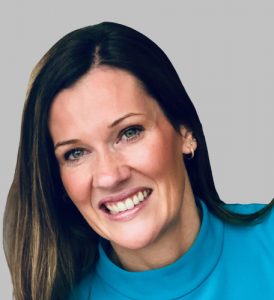 The Honour was awarded in recognition of Jemma's leadership within the field of upper airway respiratory disorders in speech and language therapy, in addition to her significant contribution and response to supporting modifications to practice during the COVID-19 pandemic.
Jemma's work has influenced effective change across the speech and language therapy workforce over her 18-year career. Through direct support and leading professional guidance policy, she has supported clinicians across the country to establish and develop integrated respiratory multi-disciplinary services, improving quality of life for many patients.
Jemma first qualified in 2003 and began her clinical career at Wythenshawe Hospital's Department of Speech, Voice and Swallowing, where she treated voice and swallowing disorders. Here she identified that there was more work that could be done for patients who have problems at the top of their airway. She began working to build change in this area, and quickly developed a passion for it.
After working for 10 years at Royal Preston Hospital, Jemma returned to Wythenshawe Hospital in 2016 and set up the Manchester Airways Service which she now leads. Here a specialist multi-disciplinary team investigates and treats patients with unexplained breathlessness. It is now a nationally recognised centre of excellence receiving over 650 referrals a year from across the UK.
Jemma is also a National Institute for Health Research (NIHR) Manchester Biomedical Research Centre PhD Fellow, and Royal College of Speech and Language Therapists' National Respiratory Professional Advisor.
She grew up in Leicester, and now lives in Wilmslow, Cheshire with her husband and three children.
Prof Jane Eddleston, Joint Group Medical Director at MFT said: "I'm thrilled that Jemma has received such a prestigious recognition in honour of the huge strides she's made for her discipline. Thanks to Jemma's dedicated work, patients across the country are now being diagnosed more appropriately sooner, and being given treatment that's better targeted to their needs. She's a very worthy recipient of this fantastic accolade."
Jemma said: "I'm incredibly humbled and proud to receive this honour for services to a profession I absolutely adore. It is fantastic recognition of the vital role speech and language therapists contribute to upper airway respiratory disorders and also a reflection on how our profession has responded to the COVID-19 pandemic.
"I have had the privilege of working with many inspirational patients, colleagues and multi-disciplinary team members over the years and am incredibly grateful for their guidance and support in helping improve the care we give."