Ground-breaking research taking place at Manchester Royal Eye Hospital is trialling a new investigational gene therapy designed to halt the progression of dry age-related macular Degeneration (AMD) – for which there are currently no approved treatment options.
Manchester Royal Eye Hospital (MREH) is one of only four UK sites where an investigational gene therapy, called GT005, is being tested for an advanced form of dry AMD – known as geographic atrophy (GA) – as part of a global clinical trial, called FOCUS.
The trial involves injecting a single dose of GT005 directly under the retina of a patient's eye. GT005 induces expression of an anti-inflammatory protein, which study sponsor and GT005 developer, Gyroscope Therapeutics Limited, believes may help slow the progression of geographic atrophy.
More about AMD
AMD is a common condition that affects the central part of a person's vision and usually first affects people in their 50s and 60s.
The natural history of AMD is progressive loss of central vision. This can happen gradually over several years (dry AMD), or quickly over a few weeks or months (wet AMD). The exact cause is unknown, but has been linked to smoking, high blood pressure, being overweight and having a family history of AMD.
Dry AMD, which accounts for the majority of all AMD cases, is a slow deterioration of the cells of the macula (the central area of the retina). This can lead to irreversible loss of visual function and eventually inability to read and to recognise faces. It can have a debilitating effect on people's lives and their relatives.
Jean's story
Aside from requiring reading glasses when she reached her 40s, Jean largely had no issues with her vision, until around 10 years ago, aged 70.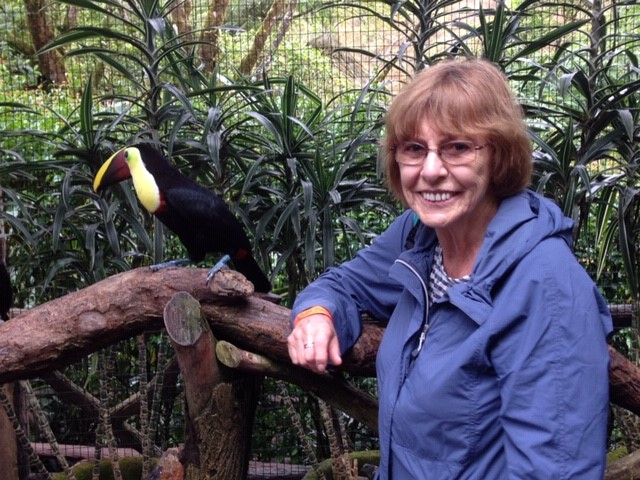 "I play badminton regularly and one day I was finding that I kept missing the shuttlecock every time I tried to carry out a smash – I didn't know what was happening at the time," said Jean, who is now 80-years-old.
"My optician then told me that my core sight wasn't good enough for driving – which was a real blow. I was later referred to an NHS consultant, who confirmed the condition."
As well as not being able to drive, Jean's condition means she is unable to write, aside from her signature, which she does from memory.
"I can't write birthday cards, but one of my great skills in life is delegation!"
As there are currently no approved treatment options for dry AMD, Jean was keen to take part in a research study, and upon reaching out to the Macular Society and signing up to receive its magazine, began looking out for opportunities to join a clinical trial.
Jean first took part in SCOPE at Manchester Royal Eye Hospital, an observational study also sponsored by Gyroscope, which is evaluating how certain genes may lead to the development of AMD and how it naturally progresses. When asked to take part of FOCUS, she was delighted.
Jean said: "This research study is a lifeline, as there is no treatment for my condition currently."
"I know it's not going to improve my condition, but if this does halt the deterioration then that would be fabulous."
Approximately 60 patients are anticipated to be treated with GT005 as part of FOCUS trial, receiving the therapy in one eye.
As this research is very early phase, Manchester Royal Eye Hospital – part of Manchester University NHS Foundation Trust – is targeted to recruit up to three patients to take part in the study. Our first MFT participant received treatment as part of the study in November 2020, while Jean underwent her surgery in April 2021. The procedures were carried out by Miss Tsveta Ivanova and Mr Assad Jalil, Consultant Ophthalmologists and Vitreoretinal Surgeons at Manchester Royal Eye Hospital (MREH).
Jean said: "I was a bit nervous before the surgery, but not frightened. I was mainly quite excited, as it could help me to continue to live independently.
"The team was brilliant, and the hospital was fantastic."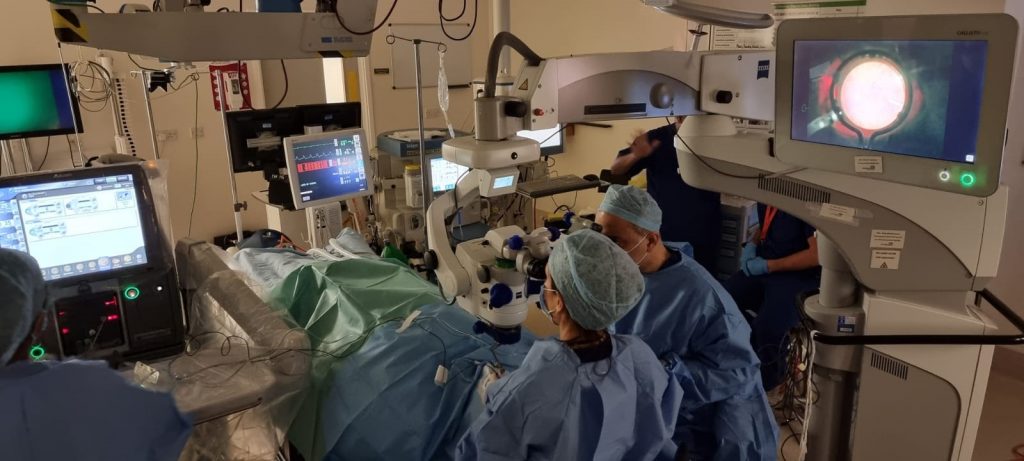 Jean will take part in the study for five years, with regular follow-up appointments at MREH in the months immediately after surgery, with appointments becoming less frequent as time progresses.
Throughout her participation in the study, Jean will be looked after by a multidisciplinary team, some of whom are pictured below: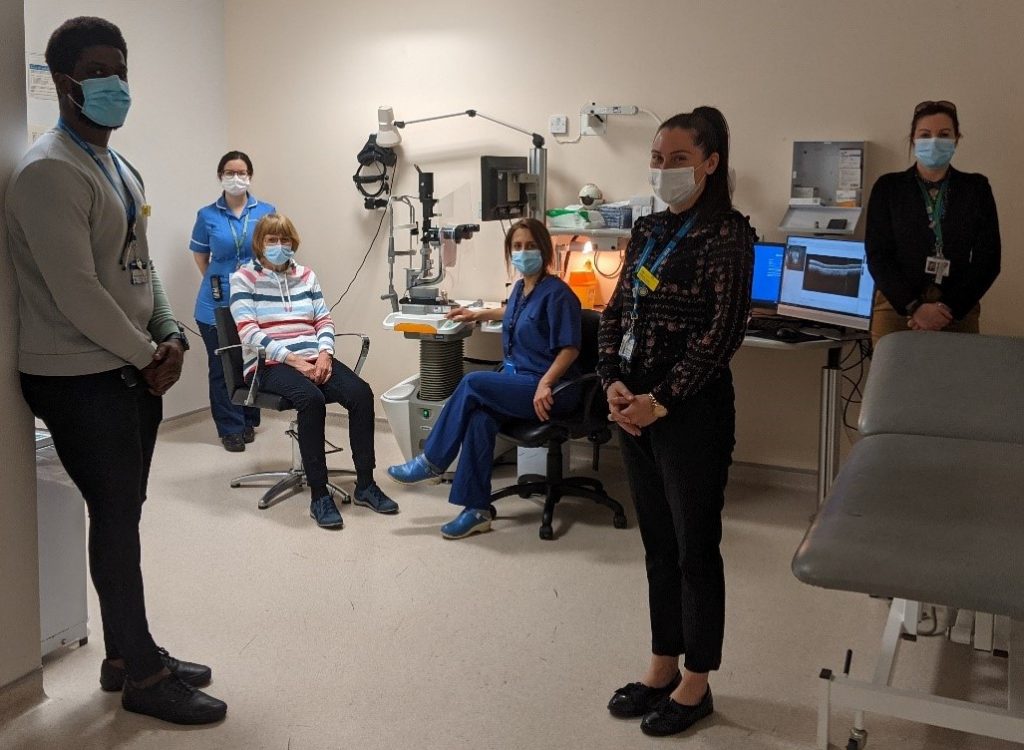 Miss Ivanova said: "Gene therapy in ophthalmology has been shown to be an effective way to tackle incurable conditions, with one gene therapy approved and on the market in the UK and others in development.
"Previously the focus has been on inherited retinal diseases; this study, however, explores the possibility of the role of gene therapy in dry AMD – an exciting new avenue of research for this disease, which affects millions worldwide."
GT005 is an investigational gene therapy and has not been approved by any regulatory authority globally for any use and its efficacy and safety profile have not been established.
Find out more about the study via the Be Part of Research website.