During the first wave of the pandemic, Jennifer Royle, Dental Nurse at University Dental Hospital Manchester was part of the first cohort of staff to be redeployed to the newly established Nightingale Hospital North West to provide nursing care to patients during the Covid-19 response.
It was during her time working here that Jennifer discovered a new passion for nursing which has inspired her to retrain as a Nursing Associate.
Jennifer, from Glossop has been a Dental Nurse for almost 18 years and has worked at Manchester University NHS Foundation Trust (MFT) for two years. Speaking about her experiences during the pandemic, Jennifer has shared a personal account of how redeployment inspired the next step of her nursing career.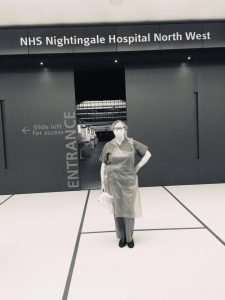 She said: "The morning I was informed that I would be redeployed to the Nightingale Hospital North West, I was relieved as the uncertainty of not knowing where I'd be working had swiftly disappeared. That same morning, myself and four of my dental colleagues went straight onto a 'Welcome to The Nightingale' course and orientation day. I could feel myself getting excited arriving at Manchester Central as we were being watched by a street full of onlookers, including the media, all intrigued as to how the Nightingale North West would play its part in the pandemic. Despite being redeployed, under these circumstances, there was a real hive of positive energy that all staff could sense, knowing we were the first staff members to enter the new hospital and embracing the challenge ahead of us.
"My first day is all a bit of a blur. I felt like a rabbit in headlights, being completely out of my comfort zone trying my hand at a job I'd never done before. The type of nursing I'm qualified in is dental, so you can imagine just how dissimilar a healthcare support worker role is – which is the new role I was given. Despite the nerves and thanks to the lovely team I found myself with, and to the training that I was provided with, I threw myself in, helping patients to wash, dress, use the toilet and eat their meals. I was unbelievably grateful to everyone I met that day, and all the other selfless staff members I met at the Nightingale Hospital North West. They were all so nice and were always willing to lend a hand. No question was too small or stupid!
"One thing that became obvious very quickly is that we were all focused on attaining the same outcome; 'To Save Lives', which was the Nightingale's motto. We were one big team, from various backgrounds, all equal and we all respected one another. The donations of free food and drinks helped make things easier (and probably helped most of us gain a few pounds!) but was ultimately very much needed as the weeks went by and more and more patients were admitted. Patients enjoyed seeing regular faces as one lady had said "you're all my family whilst I'm here". Despite their anguish in view of their situation, they were admirably spirited, and I believe we helped keep their enthusiasm for life. Bingo was a regular game on a Thursday and the Family Liaison Team made sure the patients were able to see and speak to their relatives on screen daily.
Patient Testimonials
When our last patient was discharged in June 2020 and we clapped him out, as we had all the others, there was a definite sense of achievement. We had done what we'd set out to do, all of us. Everyone at the hospital was smiling that day.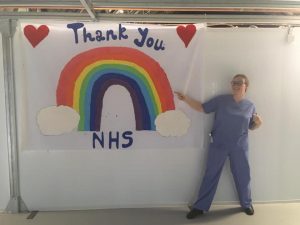 "I returned to my usual role the University Dental Hospital Manchester, fixing tooth cavities and helping patients with their oral hygiene. As the next four months went by, I thought about my time at the Nightingale with gratification. Although we were only there 10 weeks it made an enormous, lasting impression on me.
"Looking back, I was apprehensive, nervous and worried, as were my family and friends, and there were challenges – some much harder than others, but I knew I wouldn't hesitate to do it all over again. My novel confidence grew as I learnt new and unique skills. I made new friends who I laughed and cried with and I had a newfound appreciation for the difficulties those fighting Covid-19 had no choice but to face.
"In October 2020 there was another opportunity to step forward and volunteer at Nightingale Hospital North West, which is exactly what happened. This time we were helping patients who didn't have Covid-19, but who required rehabilitation in order to get home. Patients this time round needed a different type of care, but it was clear that the love and devotion of staff during these unfamiliar and unpredictable times remained just the same. Upon re-opening its doors, we were running for another 23 weeks and in total we looked after more than 350 patients. A time in my life I will always be proud to have been a part of.
"Once the hospital closed its doors for the final time, my mind had been made up – I wanted to pursue a career in nursing. I think my positive Nightingale experience and influence reflected well when I spoke of it in my recent Trainee Nursing Associate interview. I was over-the-moon to discover I'd been accepted onto the course as I could build on the knowledge I'd already gained as a dental nurse and follow my dream.
"It is with thanks to MFT and the Dental Hospital that I not only grew my knowledge as a dental nurse but then discovered a passion for a different type of nursing. I will miss my team, but I look forward to the challenges a Trainee Nurse Associate will bring."
Jennifer will undertake her nursing associate training at Pennine Care NHS Foundation Trust (with The University of Salford) for two years. She is open minded about the area of nursing in which she would like to specialise but has a genuine interest in mental health nursing.
Group Deputy Chief Nurse at MFT, Sue Ward said: "We are incredibly proud of all our colleagues who stepped up and stepped out of their usual roles to help in any way they could during the pandemic. Jennifer played a vital role in providing care to patients at the Nightingale Hospital North West and we thank her for all her efforts during this time. Changing your job role overnight is not an easy task but Jennifer took this challenge in her stride and should be very proud of what she has achieved. It is heart-warming to see that this has now inspired the next chapter of her nursing career and we wish her the best of luck in her nursing associate training."
More than 100 staff members at MFT were redeployed to the Nightingale Hospital North West based at Manchester Central during the pandemic to assist with the Covid-19 efforts. The hospital was part of the NHS mobilisation plan to deal with the growing number of Covid-19 cases and to provide vital support to acute hospitals in the North West.
Banner photo credit: Joel Goodman