Manchester University NHS Foundation Trust (MFT) and MFT's Charity's team are saddened to receive news of the death of our Charitable Fundraising Board Chairman Maurice Watkins CBE.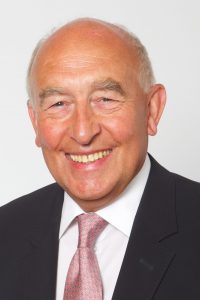 Maurice was a valued and much-respected Chairman of the Charity Fundraising Board and he will be greatly missed by all colleagues and Charity partners who shared his vision and passion for MFT and enjoyed working with him on many projects over his long and distinguished leadership of the Fundraising Board.
As well as supporting our MFT Charity, Maurice was renowned as a leading sports lawyer with Manchester United FC and Chairman of several national sport governing bodies.
Maurice took up the position of Chairman in 2005 and since that time has led the Charity in raising more than £70m, including £20m for the 'New Children's Hospital Appeal' for the building of Royal Manchester Children's Hospital in 2009.
Since its early success, the MFT Charity has gone from strength to strength and now raises money for MFT's family of 10 hospitals and Community Services in Manchester and Trafford
Kathy Cowell, MFT Chairman, said: "Without Maurice's vision, passion, energy and leadership, MFT Charity simply wouldn't be in the strong position it's in today.
"As well as being a respected legal figure, Maurice was also a staunch and committed advocate of the NHS and believed passionately that charities like ours can, and do, make a huge difference to people's lives.
"Maurice enjoyed seeing for himself just how much the money raised made a difference to the lives and outcomes for our patients. Whether in transformational care from research and new treatments, to enhanced care projects, the charity funds at our Greater Manchester hospitals benefitted from the focus Maurice brought to our fundraising appeals. Most recently, this included the celebration of the launch of the Trust's new Helipad, for which the Charity raised £3.9m.
"Maurice's hard work and dedication was felt by the whole team at MFT and our supporters, and we were delighted  when this was recognised publicly with a national honour – the CBE in the Queen's Birthday Honours in 2012 for services to charities in the North West.
"I feel privileged and honoured to have known Maurice, he will be greatly missed by the whole team. On behalf of the MFT, I want to extend our condolences to Maurice's family and friends and let them know they are in our thoughts and prayers at this incredibly sad time."