During the twelve months of the pandemic from March 31st 2020 – March 31st 2021, approximately 17,000 babies were born across Saint Mary's Hospital Managed Clinical Services (MCS) at Manchester University NHS Foundation Trust (MFT). This is approximately two babies per hour, across sites at Saint Mary's Hospital on Oxford Road Campus, Saint Mary's at Wythenshawe Hospital and Saint Mary's at North Manchester General Hospital.
The Obstetrics and Newborn Services at Manchester University NHS Foundation Trust (MFT) played an exceptional role throughout the pandemic in ensuring women were able to birth their babies safely.
In addition to this, 1,688 babies were admitted to the Newborn Intensive Care Unit (NICU) across both sites, for babies who require intensive care, surgical care, or the input from specialists based at Royal Manchester Children's Hospital, as well as providing care for babies who require high dependency and specialist care.
Kathy Murphy, Director of Nursing and Midwifery at Saint Mary's Hospital Managed Clinical Services (MCS) said; "Throughout the pandemic our staff undertook their normal duties in circumstances that were anything but normal.
"These included the challenges of working in Personal Protective Equipment (PPE), adapting to changing advice and guidance on practice, providing a safe environment for all our patients and families, including those diagnosed with COVID-19, and further supporting families during the restricted visiting policy whilst managing their own worries and challenges of the pandemic with their friends and family.
"Throughout this, they continued to provide the highest standards of care and support to all our women, babies and families ensuring that their experience was as special as it should be. We are truly proud of each member of staff in our Obstetrics and Newborn Services Team and throughout Saint Mary's, for their contribution as both individual members of staff and as one fantastic team.
"We also want to thank our patients and families for being so understanding during those challenging times."
During the pandemic, NICU have also provided around-the-clock care to sick or premature babies, whilst supporting new mums and families during times of uncertainty.
The Obstetrics and Newborn Services are one of the teams that have been recognised for their contribution during the pandemic in a special film made by MFT to give an insight in to some of the incredible work that went on across the UK's largest NHS Trust during the height of the pandemic.
'Our MFT Story' was launched in August 2021 and you can watch the film here.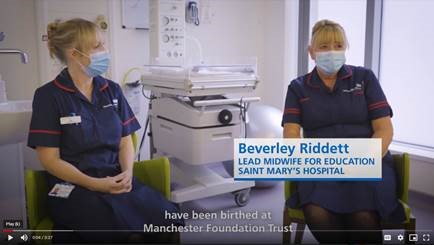 Beverly Riddett (pictured), Lead Midwife, who has been a midwife at Saint Mary's for an incredible three and a half decades and features in the film, recalls:
"In my 35 years of working in Midwifery, it has been one of the most memorable, challenging and rewarding years of my career. One of the hardest things during the pandemic was keeping up with the changing guidance and our teams went above and beyond to ensure that women felt supported during what was such a unique time in their lives. It is great to work with such dedicated staff who are totally committed to providing the very best care to women, babies and their families and in supporting each other."
WATCH the video clip via this link.