The first participants have been involved in a study onboard Greater Manchester's new state-of-the-art Research Van.
The one-stop mobile facility is ready to support the delivery of research projects at community locations across the region following a successful 'dry run' at its Wythenshawe Hospital (part of Manchester University NHS Foundation Trust (MFT)) base on Wednesday 9 February.
Research teams at health and care organisations across Greater Manchester, East Cheshire and East Lancashire are invited to submit expressions of interest for utilising the purpose-built vehicle.
Sue Stockdale, a Trainee Advanced Clinical Research Practitioner at NIHR Manchester Clinical Research Facility (CRF), was the very first research participant on the van.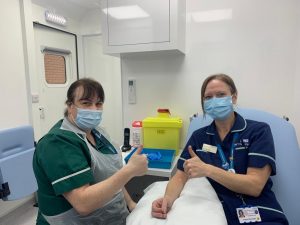 Sue had her bloods taken by colleague Jane Shaw, a Clinical Research Practitioner, as part of her involvement in the SIREN study investigating the protection COVID-19 antibodies provide against the virus.
Sue said: "'I was really pleased to be the first participant on the Research Van. The space is comfortable, clean, and surprisingly spacious. Staff were efficient and professional, making the whole experience stress-free."
The Research Van, only the second of its kind in the UK, has been designed to deliver care and widen opportunities to be part of research in communities across the region. It will visit easy-to-reach locations such as community centres and supermarket car parks.
The vehicle has been initially funded with a grant from the UK government Vaccine Task Force following a successful bid from NIHR Clinical Research Network Greater Manchester (CRN). It will be operationally managed by Manchester CRF, with further support from the NIHR Manchester Biomedical Research Centre (BRC), all of which are hosted by MFT.
However, it is very much a Greater Manchester-wide resource and health and care organisations across the region are encouraged to think about how they can effectively utilise the van.
Sasi Neelamekam, Quality Lead at Manchester CRF, has managed the Research Van project and was on-hand to oversee the first day run smoothly.  She said: "We've had a steady stream of participants who were all Trust staff taking part in a study as part of our 'dry run'.
"They were all really excited to get inside and see what the van is like, and that has made us feel even more positive. They think it looks fabulous and they can see the amazing potential the van has to take studies into the community and make research even more inclusive."
Lebina Pinto, Matron at Manchester CRF, was also involved on the first day. She said: "The people who came in today have all had a good experience and we are now really excited to see the van go into the community. The Research Van provides a really convenient and accessible option for participants."