During Ramadan this year, two Physiotherapy colleagues from Clinical and Scientific Services have written an article with useful information about Ramadan and Edi Ul Fitr, which was featured in the quarterly AHP Newsletter. You can read the article written by Naheed Ahmed and Mai Hussain here.
We also asked Naheed and Mai for their own personal reflections on Ramadan and Edi Ul Fitr, which is expected to fall on Monday, May 2nd, including what it's like to work and how colleagues can best provide support to colleagues observing Ramadan and Eid.
Naheed Ahmed, Senior Specialist Major Trauma Physiotherapist for Clinical and Scientific Services, based at MRI.
Personal Reflections on Ramadan:
"For me, Ramadan is a month for God – 11 months for me and one month dedicated to God. During Ramadan, I appreciate all I have – freedom, food, a drink at the end of the day. I come away feeling very humbled and grateful. I self-reflect and endeavour to make positive changes moving forward, this might be about self-control on portion sizes or the amount I time I spend on social media.
"Most people at work recognise Ramadan, and want to support you, they ask questions, and I enjoy those discussions. At night, we have lovely feasts with family and friends, which I appreciate more than ever since the pandemic, and we are able to go the Mosque and pray in congregation again which is nice.
"The last 10 days are the most pious time and the hardest. Muslims across the Trust observing Ramadan will be feeling quite weary by this point. During these 10 days I pray till late and it can be hard to then be in work early. Ramadan is a struggle, this helps you to empathise with people who fast and struggle every day, not out of choice, and encourages you to give to charity to help someone in need, which is recommended."
How to Support Colleagues and Reflections on Eid Ul Fitr
"In terms of supporting colleagues, personally I don't want anyone to avoid eating or drinking around me or apologising because it's about me exerting self control and having the willpower to fast in all circumstances. I did ask to stagger my hours slightly this year and my manager was very supportive of this, which I truly appreciated. The exact date when Eid falls depends on the sighting of the moon so it can be difficult to book annual leave ahead of time so I know that flexibility about this is appreciated by Muslim colleagues.
"When Eid arrives, it's lovely to celebrate with family and work colleagues and it's nice to suggest a celebration to colleagues who has been fasting. After Eid, I really appreciate that cup of tea in the morning and enjoy the novelty of being able to eat during the day.
"I feel like I've put myself through something that is challenging but hope to complete the month as a better person. I would like to wish everyone Eid Mubarak – & hope you have a blessed and safe Eid with your family and loved ones."
Mai Hussain, Senior Specialist Occupational Therapist in the Critical Care/Surgery Therapy Team, based at MRI.
Personal Reflections on Ramadan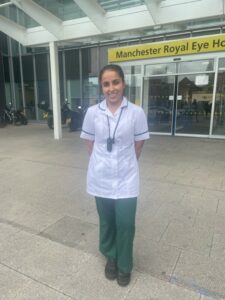 "During Ramadan, you feel tiredness when you're busy at work due to waiting up in the night to eat or drink before fasting begins. When it's warm weather and the heating's on at work, that makes it harder but this all reminds me of difficulties other people are going through every day and that's important to me.
"I appreciate that my team members respect what I'm doing and try to be mindful. They keep an eye on me and encourage me to take a break for a minute or go to a cooler area, no-one judges. They try to avoid asking me if I want tea or coffee and apologise if they forget. We have Cake Wednesday and save me a piece for the evening.
How to Support Colleagues and Reflections on Eid Ul Fitr
"My team celebrate Eid Ul Fitr – they understand how challenging it has been and want to be as inclusive as possible. We haven't been able to have food together to celebrate Eid since COVID but we used to and my manager gave me a card to celebrate, which means a lot to me. Eid Mubarak to everyone!"