The first UK participant has been recruited to a research study that could potentially help millions of people living with a condition that can lead to irreversible blindness.
The study is being delivered at Manchester Eye Hospital (MREH) – part of Manchester University NHS Foundation Trust (MFT) – as well as other sites across the UK and Europe, and is investigating the best treatment for glaucoma.
About glaucoma
Glaucoma is a common and progressive eye condition, usually caused by a build-up of fluid in the eye. This fluid build-up increases pressure, known as intraocular pressure (IOP). If untreated or insufficiently treated, elevated IOP can lead to permanent vision loss.
It is estimated that 76 million people worldwide currently have glaucoma, and that this will increase to 112 million by 2040.
Treatments for glaucoma aim to reduce the pressure inside the eye by using medication, laser treatment, or surgery. The treatments being evaluated in the TRIDENT study are approved as surgical treatments for patients who have open-angle glaucoma (where drainage channels in the eye become blocked over time), and which leads to elevated IOP.
The researchers hope that the information gained through this trial will reveal if one treatment has any advantage over another, to help inform future clinical care.
About this research
As TRIDENT is an observer-masked trial (where the evaluator of the outcomes is unaware of what treatment was used), participants in the study will be 'randomised' to receive one of three treatments to help lower eye pressure:
OMNI®* Surgical System Canaloplasty and Trabeculotomy: which involves enlarging and opening up the normal drainage channel and also removing a thin layer of tissue, in order to improve access to the drainage channels.
OMNI®* Surgical System Canaloplasty: which involves enlarging and opening the normal drainage channel.
iStent Inject Implantation: which involves the placement of two very small stents that improve access for the fluid in the front of the eye to the drainage channels.
Mr Leon Au, Consultant Ophthalmic Surgeon at MREH and Study Lead at MFT, said: "Around half a million people in the UK are affected by glaucoma, with most patients treated with daily eye drops. While these are effective at reducing inner eye pressure for most patients, they are not always a suitable solution.
"Manchester Royal Eye Hospital is one of the largest specialist ophthalmic teaching hospitals in the UK, and is a leading research centre.
"The TRIDENT study, being delivered here in Manchester, provides an exciting opportunity to seek additional evidence on safe and effective options when addressing IOP in open-angle glaucoma in a broad patient population."
Charu's story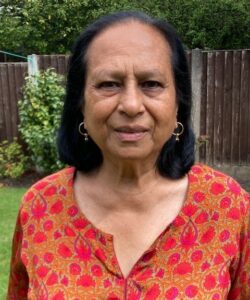 Charu Amin, who lives in central Manchester, was formerly a lab technician at Wythenshawe Hospital – which like MREH is part of MFT
The 71-year-old was diagnosed with open angle glaucoma eight years ago, which is around the time that she retired.
Charu said: "I currently have to put eye drops in twice a day at the same time. It's fine but just means I have to remember to take my eye drops out with me and to use them if I'm out and about."
"I've had slight deterioration in my right eye since being diagnosed. I hope that this trial is successful and will help to keep the eye pressure steady, slow any deterioration, and end the need for eye drops."
This 12 to14-month research study is being sponsored globally by Sight Sciences, Inc. and is being conducted at more than 20 hospitals located within the European Union, the United Kingdom, and Switzerland. 
*OMNI® is a registered trademark of Sight Sciences, Inc.