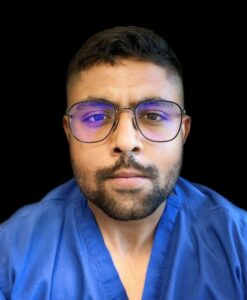 I am currently a junior doctor in my third year of training and looking forward to starting my next placement, within internal medicine. I believe my research placement at Manchester University NHS Foundation Trust (MFT) helped me to secure the role – and be placed in the top 20 per cent of candidates – which is why I encourage other junior doctors to consider research as an opportunity not to be missed.
My research experience
As part of the junior clinical fellow programme at MFT, junior doctors can opt for a development day, once a week, for 12 months. Last year, I joined the NIHR Manchester Clinical Research Facility (Manchester CRF) at Wythenshawe Hospital – which is part of MFT – to gain experience and development opportunities in early phase clinical trials.
Before joining Manchester CRF, I had absolutely no involvement in research of any kind. My previous impression of research was that it was a highly academic, non-clinical discipline, which had no real and immediate practical application to help patients. As I discovered during my time at the CRF, this initial impression could not have been further from the truth.
My experience within the CRF at Wythenshawe Hospital showed me that clinical research involves devoting a significant amount of time to building a rewarding participant-doctor relationship. This is actually one of the things that makes me want to pursue involvement in more clinical research in the future.
I have learnt during the last few years – especially having worked through the COVID-19 pandemic – that medical knowledge can become out-of-date very quickly.
"We need clinical research, the people and facilities like Manchester CRF, to constantly push the boundaries of our knowledge and ensure patients receive the latest and best possible care – because it is only research that makes modern medicine modern."
Although I am aware this is not always the case in research, I saw a significant improvement in the quality of life of study participants with long-standing health issues, and this was a very rewarding experience.
Development and educational opportunities
In terms of research delivery, after appropriate training, I took on the role of sub-investigator on studies. This means I was involved consenting people to participate in trials, screening patients, performing clinical examinations and then following them up throughout the trial to monitor their response to novel treatments. Being a sub-investigator really clarified the process by which pharmaceutical products are tested. With an increasingly growing pharmaceutical industry, it is important for physicians to understand the mechanisms by which such products are deployed. I have also been asked to support the research clinical staff in preparation for an on-site audit of a clinical trial.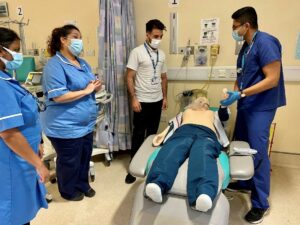 From the educational point of view, I had the opportunity to improve and expand the current training of research staff – regardless of job role – to respond to a clinical emergency. CRFs conduct this important training as routine practice. Working with the Clinical Trials Physician and Trainee Research Advanced Clinical Practitioner, I planned the content, organised and actively ran several emergency clinical scenarios for staff. I was involved in determining the learning objectives, writing a report and delivering constructive feedback to the team. To support and embed this work, I also had the chance to give an educational lecture to the members of Manchester CRF on how to manage acute emergencies in a clinical setting. This has subsequently been recorded as a voice-over presentation and incorporated into the staff induction package across MFT's CRF sites.
Finally, the annual UKCRF Network Conference is a great place to share our work  in a national forum. This in turn allows us to exchange and discuss ideas with our colleagues across the national research landscape. Manchester CRF has actively supported me and provided a platform for me to showcase my work and share experience at a national level with the other NIHR-funded clinical research facilities.
Following my application for my next role, I was pleasantly surprised to have been in the top 20 per cent of candidates, owing in no small part to the activities I was able to carry out at Manchester CRF. Subsequently I was offered a place for internal medicine training at my first choice, in Brighton.
"Exposure to research has given me a greater appreciation of the processes behind developing novel treatments for patients and an appreciation for the dedication of trial volunteers."
The staff at  Manchester CRF are very supportive and are always willing to train and teach to the highest of standards. The part-time research role at Manchester CRF is something I would highly recommend to any junior doctor who wants to diversify their skillset in research and gain a well-supported exposure to academic medicine.