Manchester University NHS Foundation Trust (MFT) has just enrolled the first participants in a new HIV study using long-acting immune-based therapy.
The RIO clinical trial is testing whether broadly neutralising antibodies (bNAbs) can keep HIV under control, without antiretroviral treatment (ART), maybe for six months or longer.
The RIO trial is sponsored by Imperial College London and it is funded by the Bill & Melinda Gates Foundation.The trial is jointly led by Imperial College London, University of Oxford and the Rockefeller University. At MFT, the RIO study is taking place at North Manchester General Hospital (NMGH), home to the North West Infectious Diseases Unit.
About this research
Currently, people living with HIV take a daily oral medicine, which keeps them healthy and maintains virus to undetectable levels in the blood. This also makes HIV untransmittable to partners.
The RIO trial is testing whether a new therapy; a combination of two experimental antibodies – called broadly neutralising monoclonal antibodies, or 'bNAbs' – can keep virus to undetectable levels instead of ART.
This means that people who take part in the RIO study will be asked to stop their usual ART, when they will be very closely monitored.
Participants will either receive bNAbs or a placebo and will then stop their medicines or placebo. A placebo is an inactive treatment that looks the same as the bNAbs. It is necessary to test the new treatments against a placebo to see if the bNAbs work.
After stopping ART, researchers will measure HIV viral load very regularly via blood tests to see how long HIV can be controlled using bNAbs instead of medicines.
Participants will be asked to restart ART when the virus becomes detectable in a blood test.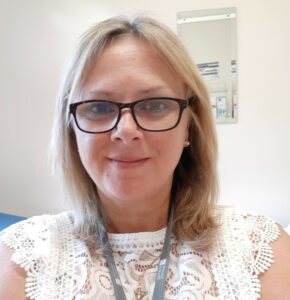 The RIO trial at MFT
During the trial, participants are given bNAbs and then attend regular follow-up appointments. Dr Alison Uriel, Specialty Doctor in Infectious Diseases and Tropical Medicine and Research Lead in Infectious Diseases at NMGH, is the Principal Investigator for the RIO trial at the Hospital.
Dr Uriel said: "From my experience of caring for people living with HIV, I have met many people who are interested and keen to take part in research, even if it might not benefit them directly. By leading trials like this we will keep learning about new treatments for HIV.  We are very grateful to all those who volunteer for clinical trials, such as RIO.
Dr Uriel added: "I have been involved in clinical trials of new ART since 1998, and we have come a long way since then! Whilst current ART is very effective at controlling HIV levels and keeping people healthy, tablets have to be taken every day, and for some that's quite a struggle, meaning this research into longer-acting therapies is very important for people living with HIV."
A participant's perspective
An MFT participant in the RIO trial said: "I enrolled on the RIO study after finding out about it from a previous HIV study I was registered on. I was on the RIVER study with Professor Sarah Fidler, in London, and that experience encouraged me to be an active participant in clinical research trials. As a person living with HIV, the regime of taking daily medication can be arduous, and I know a lot of people struggle with sticking to the routine. I feel it is important to actively participate in clinical research trials, not only from a personal point of view, but to help with the wider scientific and public community in the journey towards permanently eradicating HIV.
"Throughout the RIO trial I have felt informed, and information has been both a good level of easy to-understand and provided at a deeper level of detail where needed. The staff have all been delightful and I've felt very at ease.
A step change in HIV treatment
The study will also test how these new bNAb treatments work.
Researchers will measure whether the immune system is boosted by the bNAbs, resulting in continued control of HIV, even after the antibodies have cleared.
RIO Chief Investigator, Professor Sarah Fidler of Imperial College London's Department of Infectious Disease, said: "We are really pleased to open the RIO trial, the first randomised trial of its kind, designed to carefully measure the effects of the new treatments to see if they can control HIV after stopping ART."