Wythenshawe Hospital's Acute Intensive Care Unit (AICU) team has won the 2023 Association of Anaesthetists Innovation Prize for a unique PPE (Personal Protective Equipment) COVID-19 solution to keep healthcare workers safe, whilst improving the patient experience.
The celebrated national award recognises the importance of innovation in healthcare for the benefit of patient safety, patient care and improvements in the hospital workplace.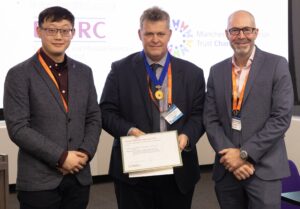 Working with frontline healthcare staff and colleagues at The University of Manchester and Designing Science Ltd, the team developed Bubble-PAPR – a low-cost, sustainable, hood-integrated powered air-purifying respirator (PAPR), as part of a research study.
Bubble-PAPR is compatible with stringent infection control practices and was rated as more comfortable to wear than regular PPE by staff in the ICU and other high-risk clinical areas.
The team undertook detailed evaluations at Manchester University NHS Foundation Trust in 2020 to 2021, supporting the clinical effectiveness of the innovation and assessing the carbon footprint and environmental impact of Bubble-PAPR.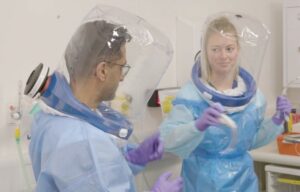 Professor Brendan McGrath, Intensive Care Consultant at Wythenshawe Hospital, clinical lead through the Bubble-PAPR development and testing process said: "We are absolutely delighted to receive this award as a result of creating Bubble-PAPR, in collaboration with The University of Manchester and Designing Science Ltd.
"At the start of the pandemic, the PPE we had on the frontline restricted vision and communication with colleagues and patients and could be oppressive when worn for long periods of time.
"The Bubble-PAPR collar can be refurbished and re-used. Due to its simple design, it can be easily and cheaply manufactured, and by understanding and evaluating the environmental impact of Bubble-PAPR, we believe we have set a benchmark for future evaluation of all PPE.
"We are excited about Bubble-PAPR and believe that it could be a valuable addition to the high-level PPE options available to protect frontline healthcare staff."
Bubble-PAPR can be worn by any healthcare worker needing protection from airborne highly infectious diseases. The reusable collar that sits around the neck contains a fan to draw in air through a viral particle filter and deliver a clean, cooling airflow around the face.
Bubble-PAPR has been licensed to a major UK healthcare manufacturer and will be widely available in 2023.