Manchester hospital bosses have praised staff at their nursery, after they secured a rating of Good in all categories, following a visit by Government inspectors Ofsted.
The team at First Steps Day Nursery, on Oxford Road, care for the children of staff working for the Manchester University NHS Foundation Trust. This includes Manchester Royal Infirmary, Royal Manchester Children's Hospital, Royal Manchester Eye Hospital and the University Dental Hospital of Manchester.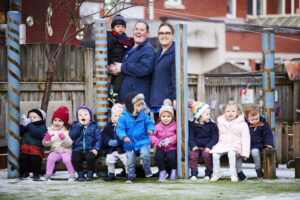 Alison Hughes, Head of Specialist HR Services said: "The great work of our nursery team is an essential part of our NHS family of hospitals, which treats tens of thousands of patients each year.
"Having such a fantastic resource on-site ensures that staff with childcare needs can rest easy knowing their children are receiving such great care.
"The team even kept going through the COVID-19 pandemic and we couldn't be more proud of them."
The rating of Good for First Steps Day Nursery, follows the disappointment of a rating of Inadequate, given at the last inspection in summer 2022.
But in just a few months, inspectors who visited last December, found there had been significant improvements.
Staff were highly rated for helping children to learn on an individual basis. Inspectors also praised the children's communication skills, language and ability with numerals.
Charlotte Moran, Business Manager of the nursery, said: "I'm really pleased that the inspectors have been able to accurately record what our nursery does well.
"We've put a lot of clear procedures in place, to offer high quality provision for the children.
"The nursery offers a positive, safe and stimulating environment. The whole nursery team have worked really hard implementing the range of new practices, to enable the process of learning and provide a broad, balanced curriculum.
"We will continually strive to improve our practice and look at extra ways to develop and progress."
The report stated: 'Children arrive happy and eager to start their day. Staff greet children warmly and sensitively, helping them to feel safe and secure.'
Education Manager of the nursery, Sue Furness said: "We get good comments from parents on a daily basis and that's what makes the difference to our staff. Parents are very happy. It's also lovely when they have another child a few years on and we get to care for them too.
"We've been open throughout the whole COVID-19 process. Sadly, a lot of other nurseries closed or many children weren't allowed to go, as their parents weren't key workers. However, we were able to offer some extra places to children that were struggling with being cared for.
"We're proud to say that the steps we take to ensure the safety of our children and staff has been recognised in this way."