Children with cancer in Greater Manchester and Lancashire could be given new hope after a funding boost for research into experimental cancer treatments.
Approximately 300 children and young people in Greater Manchester and Lancashire are diagnosed with cancer every year.
Royal Manchester Children's Hospital (RMCH) leads the network of 12 paediatric Experimental Cancer Medicine Centres (ECMCs) across the UK that deliver early phase trials for all types of childhood cancer and leukaemia.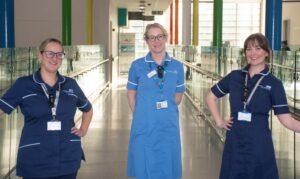 Every year, around 4,200 children and young people are diagnosed with cancer in the UK. The paediatric ECMCs put new drugs through early clinical trials to see if they are effective against different types of cancer. If these early clinical trials are successful, these medicines will progress further with the aim of ultimately becoming the cancer treatments of the future for children and young people.
New funding of £1.2m has been provided by The Little Princess Trust, in addition to funding from the National Institute for Health and Care Research (NIHR), the Scottish and Welsh governments and Cancer Research UK. This additional funding increases the total budget for paediatric ECMCs to £6.6 million over five years.
The increased funding for the paediatric network will help employ new research staff, including nurses and data managers who are critical for delivering these trials to patients. It will also allow the network to develop the platform for integrating patient data so that it is easily accessible to treating clinicians and researchers.
Research includes clinical trials for blood cancers such as leukaemia, brain tumours that affect children such as medulloblastoma, and Wilm's tumour – a kidney cancer that affects children.
Dr Guy Makin, Honorary Consultant Paediatric Oncologist, Royal Manchester Children's Hospital and Senior Lecturer in Paediatric Oncology, The University of Manchester, said:
"At RMCH we are proud to lead the ECMC paediatric network.
"Researchers are working hard to find new treatments and tackle the unique challenges presented by cancers in children and young people. The ECMC network allows these new treatments to be quickly tested so that those which are effective can be rapidly incorporated into frontline treatment to benefit more children with hard-to-treat types of cancer.
"This additional funding will help us to support more families in trials, collect more data, and link this data together. This will help in the development of better designed clinical trials that provide quicker information about which new drugs might be useful so they can be brought into frontline treatment more quickly."
As well as Manchester, the increased funding for the paediatric network will support centres in Birmingham, Bristol, Cambridge, Cardiff, Glasgow, Leeds, Liverpool, Newcastle, Southampton and two locations in London – the Institute of Cancer Research and a joint centre between University College London and Great Ormond Street Hospital.