Earlier this year, Dr Binita Kane, a Respiratory Consultant at Manchester University NHS Foundation Trust, won the award for South Asian Leader of 2022 at the first Asian Professionals National Alliance NHS (APNA) award ceremony on Friday 20th January. The award was due to her revolutionary work with SAHM and ensuring that the history of British people of South Asian descent is documented and celebrated.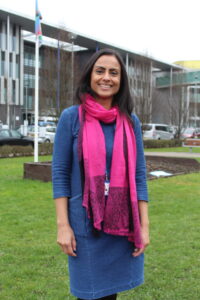 2023 will mark the fourth anniversary of South Asian Heritage Month (SAHM), the brainchild of Dr Binita Kane and Jasvir Singh. The month was created to celebrate, commemorate and educate about the rich histories that link the UK with South Asia and explain why 1:20 people in the UK today are of South Asian origin. The region of South Asia includes the countries: Afghanistan, Bangladesh, Bhutan, India, Maldives, Nepal, Pakistan, and Sri Lanka.
APNA is a voluntary organisation of NHS health and social care leaders of South Asian descent. The word apna means "Our" in several South Asian languages.
The award came as a surprise to Binita: "It's amazing to have this work recognised across the NHS nationally,  I just feel really honoured. There was so much brilliant competition in my category, so I was a little bit surprised too."
"I co-founded South Asian Heritage Month after taking part in the 2017 BBC documentary called 'My Family, Partition and Me'. I realized after the experience that I knew so little about my own history. Although I've always embraced my heritage in a sense, I have reflected a lot on the fact that I have also ignored it because I just wanted to 'fit in', and I don't think being from a different heritage is necessarily always seen as a positive thing."
Jagtar Singh, Chair of APNA NHS, said: "Binita is an amazing force for change and a true leader. What she has achieved in her medical career, and now as co-founder of South Asian Heritage Month is amazing. Her contribution to future generations of South-Asian people in UK will leave a long legacy and help us all by celebrating South Asian achievements."
The NHS has a long history with people from the South Asian continent. Binita said: "The NHS workforce was built on the waves of immigration that that happened after the Second World War. Britain was very much deplete of a workforce and people like my father, who is a physician, were encouraged to come over to England in the in the 1950s, 60s and 70s by being given British Citizenship. They became a fundamental part of building the NHS into the great institution it is."
Peter Blythin, Group Executive Director of Workforce & Corporate Business, said: "We are very proud that Binita has been recognised for her work on South Asian Heritage Month and her drive to commemorate the cultures and histories of South Asian communities in the UK. She is an asset to us at Manchester University NHS Foundation Trust and we appreciate the excellent care she provides to her patients."