A matron at The Royal Manchester Children's Hospital, who cares for children and young people with cancer and blood disorders, has spoken of overcoming her own challenges whilst dedicating more than thirty years to her profession – to highlight International Nurses Day.
Joanne Timperley, from Oldham, was diagnosed with hearing loss, aged 26. But it hasn't impacted her ability or commitment to delivering the best possible care, for her patients and their families.
The 53-year-old says: "It is a very challenging job at times, but I feel very privileged to be part of a young patient's journey.
"It's not about me. I'm just pleased when a child finishes treatment and rings the end of treatment bell.
"If I can make a little bit of difference to their lives, that's what I want. It's all about what they're going through."
Joanne always wanted to be a children's nurse. When she was young, she liked to role play by dressing up in a nurse outfit and going to work at the hospital with her mum, who was a radiographer.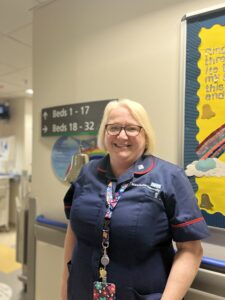 Her career began in 1991, on the wards, at the former Pendlebury Children's Hospital.
"But I was lucky to get into the profession, as I left school without any A Levels.
"I completed my degree at night school and then had opportunities to access training and education, including the Professional Nurse Advocate course at master's level," Joanne says.
She progressed through her career in paediatric oncology and haematology and in 2018 was promoted to matron in the speciality:
"I've seen lots of changes throughout my time, including advancements in treatment and I've had lots of personal development opportunities.
"Children are surviving with cancer longer now and living better adult lives."
Joanne has been just one of the staff on the frontline, in the UK's fight against childhood cancers.
Research now shows that survival rates have more than doubled since the 1970s, according to Cancer Research UK.
In addition, she's also inspired other staff to reach their goals, as she wears hearing aids and lip reads. But never sees this as a setback: "Some people worry that hearing loss might hold them back, but I hope they are encouraged when they see me in a matron's uniform."
Joanne recalls inspiring a staff nurse who was hard of hearing, to progress in her own career after learning about her success.
Today, children and young people from all over the world are treated in the Royal Manchester Children's Hospital unit, where she works.
Some patients and families are regular attenders, for treatment and follow up care.
However resilient she is, Joanne says there are times when her job becomes much more than that: "Every once in a while, when a child dies, I might have a little cry on the way home.
"It makes me incredibly sad sometimes. But I think that the day you stop caring, is the day you stop working in the profession.
"It's dealing with that sadness and giving yourself permission to be sad about it.
"During my career I've had the pleasure of working alongside some incredible nurses and colleagues that have helped build my resilience.
"It's having someone to speak with on your difficult days and sometimes it's about going home, picking yourself up and going back to work the next day."
Joanne is part of International Nurses Day this year, with staff and children on her wards and thinks it's important to mark the day positively.
They've undertaken different activities over the years, but their celebrations usually involve artwork or something creative.
"For me, it's all about the children, young people and their families, the staff are just so positive. We make it a happy environment to be in.
"You have to take a deep breath some days when you're busy and say to yourself, no matter what's going on – I've got time for the patients. It's about making time.
"I'm proud to be a nurse. I'm proud to care."