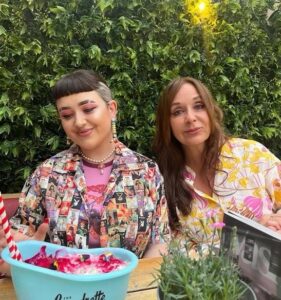 A few years ago, Sarah Cooke picked up her eldest daughter from university. On the drive home, she experienced a worrying amount of bleeding in what was becoming a daily struggle and something that would dictate everything from going to the shops or on a short walk.
"There was blood trickling down my leg," Sarah, now aged 52, said. "I didn't want to worry my daughter. The whole situation was horrendous at the time but only now, sitting here thinking about it, do I realize how much."
The blood was from a heavy period due to a uterine fibroid. "I knew I had a fibroid," Sarah said, "It wasn't causing any serious problems, but my periods were so heavy. I felt tired, groggy, and moody and I was severely anaemic."
The mum of three was forced to carry a "baby bag" of towels, pads and spare clothes whenever she left the house. "It was incredibly awkward to plan things and go anywhere. When I sat in the car, I was constantly worried about the fabric. I did try a few times to go to the gym for some escapism, but I couldn't run. The fibroid was controlling my life. My periods were so heavy that I had a constant sense of dread.
"After five years, I finally reached breaking point. I got to the stage that I would breakdown and cry in desperation, sometimes unable to control my reactions and emotions in public."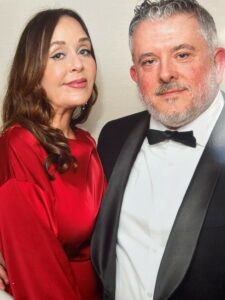 Fibroids are benign growths that develop in or around the uterus wall, ranging in size from a pea to a melon. Many women are not aware of them before diagnosis. Around one in three women with fibroids will experience: heavy periods, stomach and lower back pain, the constant need to urinate and can cause pain during intimacy
While surgery is an option for fibroid removal when symptoms are severe, it was not an option for Sarah even as the fibroid's presence heavily impacted her life. At the time, she was looking after her mother who was unwell. "I really couldn't have had that downtime. My mum needed me so much."
The breakthrough came when Sarah was referred to Saint Mary's Hospital in Manchester. A Consultant Gynaecologist, Dr Gail Busby, the clinical lead consultant for benign gynaecology at the hospital, suggested a new procedure that could remove the fibroid without surgery – the Sonata treatment.
"I didn't have a clue about the Sonata procedure before I saw Dr Busby," Sarah said. "Within a few days of my appointment, she called me and explained it to me. I was hopeful but I didn't know exactly what to expect because it's a relatively new procedure. It turned out to be the best outcome I could have hoped for."
Saint Mary's is one of the first in the UK to offer a minimally invasive option for treating fibroids that can be done in as little as a day and requires no anaesthetic. The procedure has been run so well at Saint Mary's that they have been chosen as the first reference centre to demonstrate to other doctors across the country on how to perform it.
Now, Sarah is looking forward to the simple joys of life that the fibroid prevented her from appreciating. "I'm so much more relaxed. I'm looking forward to going for walks and to the gym without bringing the carry bag."
She is also looking forward to spending more time with her husband and three children. "My second daughter, Anna, is 22 and she reminded me I've never been on a night out with them. Now I can make plans with them to go to a bar or a nice meal.
"I'm going to an event this weekend and I've been looking at dresses. I won't have to constantly think how close I am to the exit.  I've also realized I can wear whatever colour I want. I don't have to go wearing black."
Dr Gail Busby, said: "This incisionless procedure is already improving the lives of the women of Greater Manchester, and we look forward to its continued success."